Make your next salad tasty and low-carb with this delicious Keto Chicken Pesto Salad recipe! With plenty of flavour, this salad is a great way to stick to your keto diet while still enjoying a delicious meal. Try it today and see why it's a hit amongst keto eaters!
Ultra-easy keto chicken salad, made of loads of flavour, goodness and pesto sauce. This easy-peasy chicken pesto salad is full of flavour, nutrients and vitamins!
I know you are impatient to see the keto chicken liver recipe so I'll continue with the tips and tricks below the recipe card for you.
Oh and don't forget to signup for my newsletter so you get an email weekly with the new recipes!
Nutrition Facts
2 servings per container
---
Amount Per ServingCalories525
% Daily Value *
Total Fat 37.3g

57

%
Total Carbohydrate 11.1g

4

%
Protein 35g

70

%
---
* The % Daily Value tells you how much a nutrient in a serving of food contributes to a daily diet. 2,000 calories a day is used for general nutrition advice.
How to prepare the keto chicken pesto salad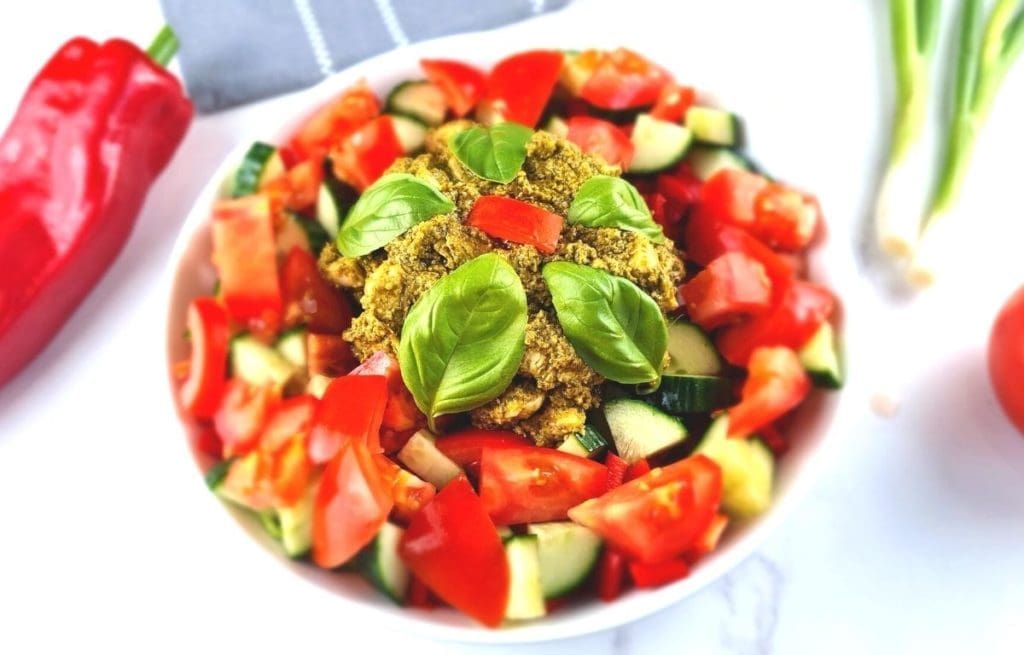 Let's start with preparing the pesto chicken.
Add one tablespoon of olive oil to a preheated frying pan.
Add the chicken. Fry the chicken up until it's just a little bit white on each side. A couple of minutes will be more than enough. You can dice the chicken to the bite size you prefer. I like it quite small.
I'm using two medium chicken fillets, about 300 grams.
Add the pesto sauce. I make my own pesto sauce as it's much tastier and has fewer carbs. If you use shop bought, please check the ingredients list as some brands have non-keto-friendly ingredients.
You can check my keto pesto sauce recipe here!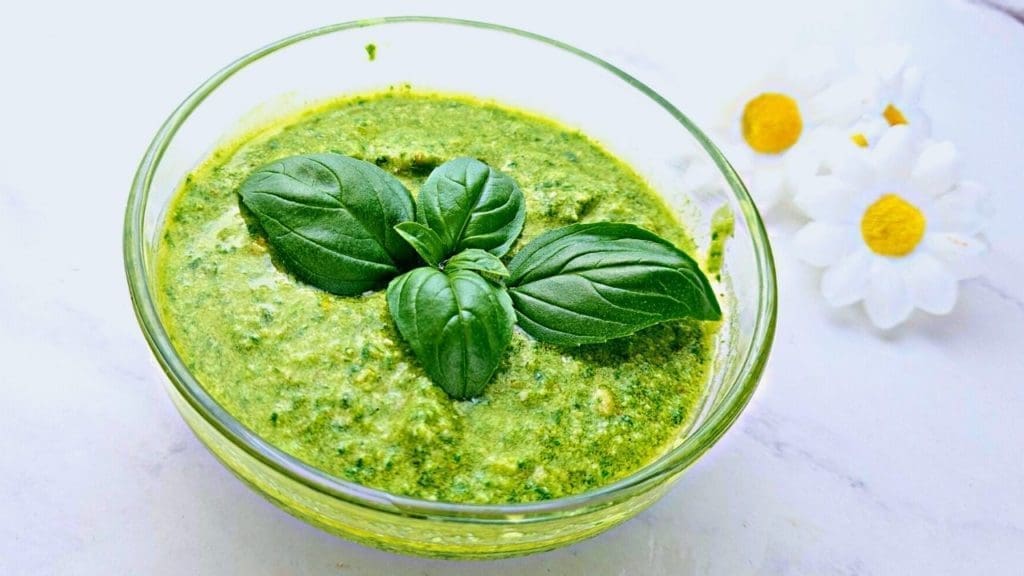 I'm using about half a cup of pesto sauce. I like a lot of sauce. You can reduce the amount of sauce to half if you don't have so much.
Continue cooking until the chicken is fully cooked. It shouldn't take more than five to seven minutes.
You can use already cooked chicken and have the pesto sauce cold on the side. That will save you the time to cook the chicken. I prefer to cook the chicken myself as when cooked together with the sauce (any sauce really), the chicken absorbs the flavours more and it's tastier.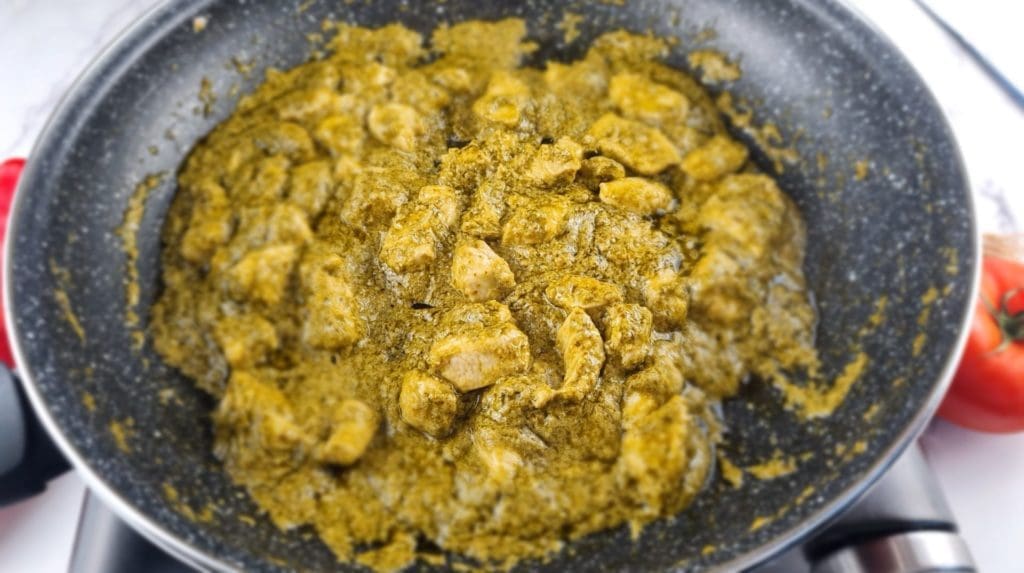 Assembly of the keto pesto chicken salad
Ct all of the rest of the ingredients to your desired bite-size and arrange in a bowl.
Top everything with the chicken and decorate with fresh basil leaves.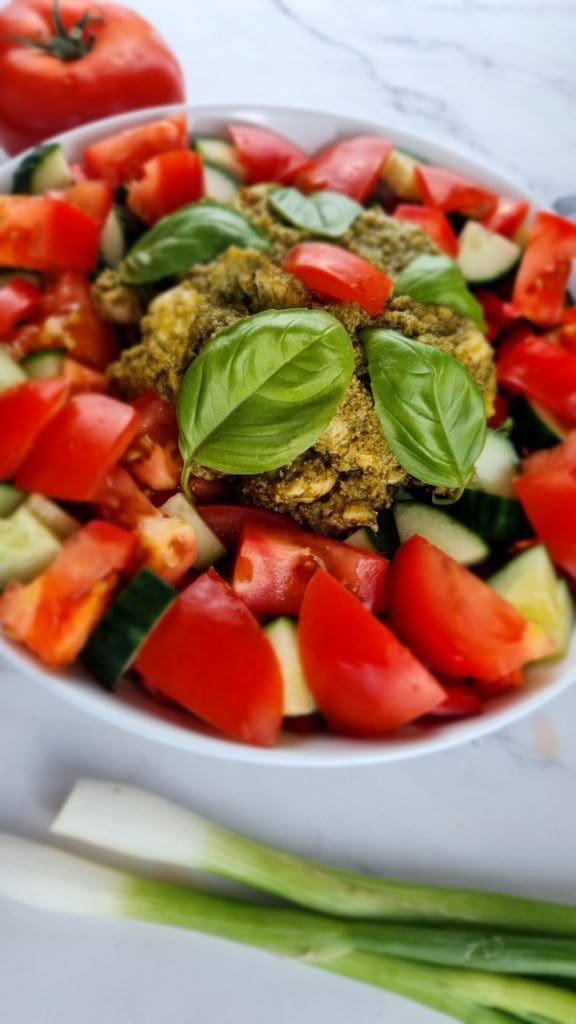 Tips
You can use any lettuce you like.
You can use brown/white onions instead of spring onions. However, the carbs with increase.
I'm using red peppers. You can use green peppers if you want to reduce the carbs.
You can use the chicken pesto with any other vegetables to create your own salad recipe. Or, why not cut some cauliflower and broccoli, and roast them in the oven?
Let me know, in the comments, what you think about this salad recipe. Did you try it? Did you like it?
Any recommendations? What other salads do you like?
I'm always open to new ideas, so please feel free to give me ideas in the comments.
Enjoy!
More recipes for you to check next!
Connect with me. Click HERE to find me on social media!