This Keto White Bread Gluten-Free Recipe tastes just like a loaf of Italian white bread, but, it's low carb and it's a great weight loss sandwich recipe. Also, it's high in fat, so it's perfect for the keto diet. If you've been having a hard time hitting your fat ratios while on keto, this bread recipe is a lifesaver! The BEST Easy Low Carb White Bread Recipe For The Keto Diet for you!
A great weight loss recipe for you my Keto Fam, Keto Sandwich Bread – only 5 ingredients and 1.8g carbs! This recipe is a low carb high fat (LCHF) / Dirty Keto diet recipe idea for snacking throughout the day or for breakfast, lunch or even dinner dessert. It is for those who are following a ketogenic diet or LCHF diet can relish the taste of a sandwich with this recipe.
This is one of my favourite dairy-free bread recipes – only 1.8g carbs per slice. Are you craving a tasty sandwich? This is your recipe! It's so easy, flavourful and quick to make. You will fall in love with this keto recipe.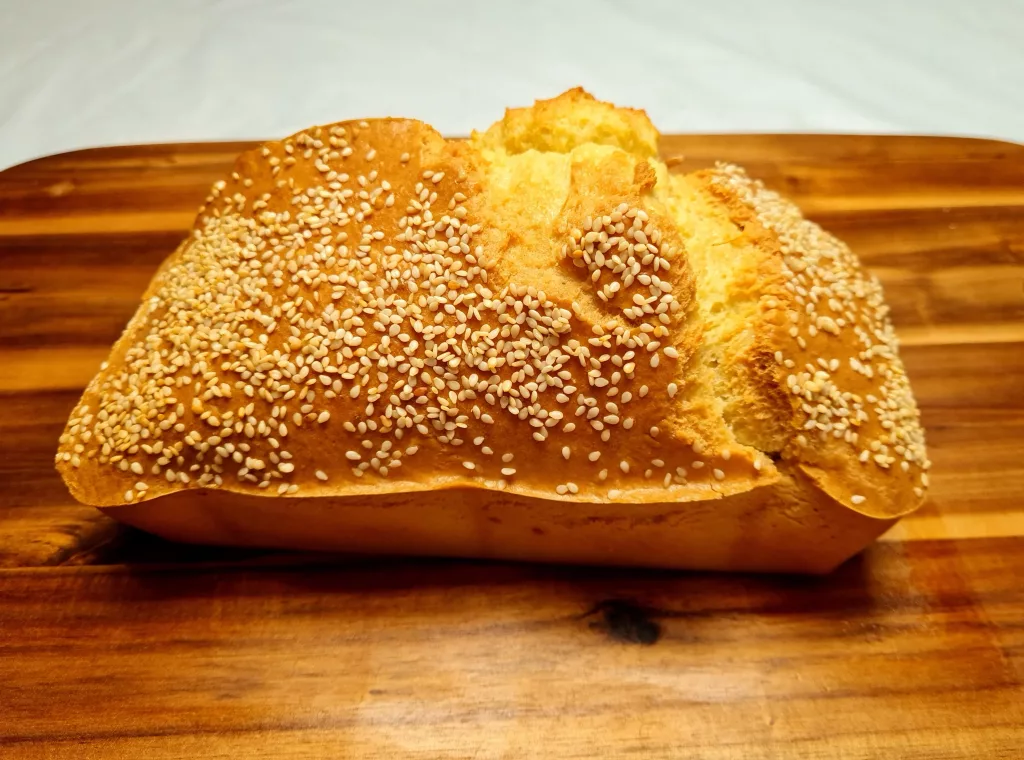 DIRECTIONS
Beat the eggs with an egg whisker or hand mixer until they are light and fluffy. This step will give extra fluffiness to your bread.
In a separate bowl, combine all the dry ingredients: almond flour, baking powder and xanthan gum. Mix them well. If you have never used xanthan gum before, see below a bit of information about it.
Add the dry ingredients to the eggs and add the melted butter. Mix until consistent mixture. You can use a hand mixer or a spatula.
Pour the mixture into a silicon bread form and bake in preheated oven to 180C/350C for 40 to 45 minutes.
Enjoy!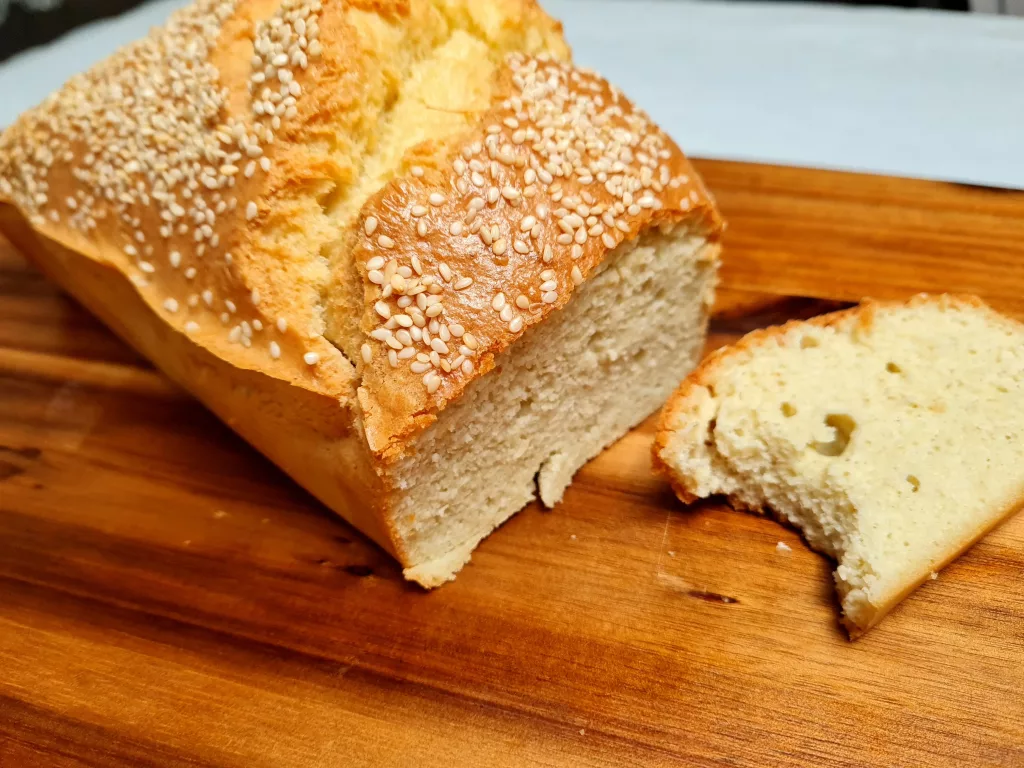 what is xanthan gum?
Xanthan gum is a magic ingredient used to emulsify and thicken dressings, as well as bind together gluten-free flours. It was first developed in the 1950s — grown from fermented plant bacteria— and has broad commercial use, as well as being a key ingredient in molecular cooking and gluten-free cookery.
It is a white and odourless powder, with similar sized granules and texture to cornflour. It means that xanthan gum's presence often goes unnoticed. It is often added to commercial dressings, vinaigrettes and ketchup to stop them from splitting on supermarket shelves. It's also added to ice creams, as xanthan gum slows the formation of crystals during the freezing process, ensuring that the end product has a smooth and creamy mouth feel.
Xanthan gum became more prevalent in restaurant kitchens as molecular gastronomy grew in popularity. Just the smallest amount is enough to stabilise a foam, gel or emulsion. The main reason that xanthan gum is now creeping into home kitchens too is the rise in gluten-free baking. When white flour is substituted with a gluten-free alternative, then it relies on the addition of xanthan gum to bind together the ingredients. Otherwise cooks will end up with brittle crumbs, rather than the sponge or loaf intended.
Xanthan gum used to be considered something of a specialist ingredient, but as supermarket gluten-free ranges are growing, it's becoming more and more widely available. Look in health food shops, or baking aisles in big supermarkets, as well as specialist chef websites.
Read more about Xanthan Gum HERE!
Do you want more keto bread recipes? Check these out!
Do you want to receive all future recipes straight in your email box?
Connect with me. Click HERE to find me on social media!
I've put together A FREE THE ULTIMATE GUIDE FOR BEGINNERS as a thank you to all my subscribers – it includes all you need to know to start your weight loss journey with Keto Diet. You can download it for free from HERE!