My grandma use to make the tastiest chicken liver I've ever had. Now, when I'm following the keto lifestyle, I wanted to find a way to make my grandma's recipe keto-friendly and I did it. This keto chicken liver recipe tastes as good as hers!
I have keto chicken liver once a month because of all the nutrients in it. It's really nutritious. I will write down the most important keto chicken liver below the recipe.
I know you are impatient to see the keto chicken liver recipe so I'll continue with the tips and tricks below the recipe card for you.
Oh and don't forget to signup for my newsletter so you get an email weekly with the new recipes!
Nutrition Facts
2 servings per container
Serving Size1 servings
---
Amount Per ServingCalories162
% Daily Value *
Total Fat 13.7g

20

%
Total Carbohydrate 7.3g

3

%
Protein 5.5g

10

%
---
* The % Daily Value tells you how much a nutrient in a serving of food contributes to a daily diet. 2,000 calories a day is used for general nutrition advice.
Why do I eat Keto chicken liver once a month? Health benefits of chicken liver
Chicken liver, as you might expect, refers to the liver of a healthy chicken.
Chicken liver's classification is less obvious. It's not considered to be red meat or white meat; it's simply organ meat or offal. Chicken liver might come from a chicken, but the nutritional difference between it and, say, a chicken thigh or breast couldn't be much greater.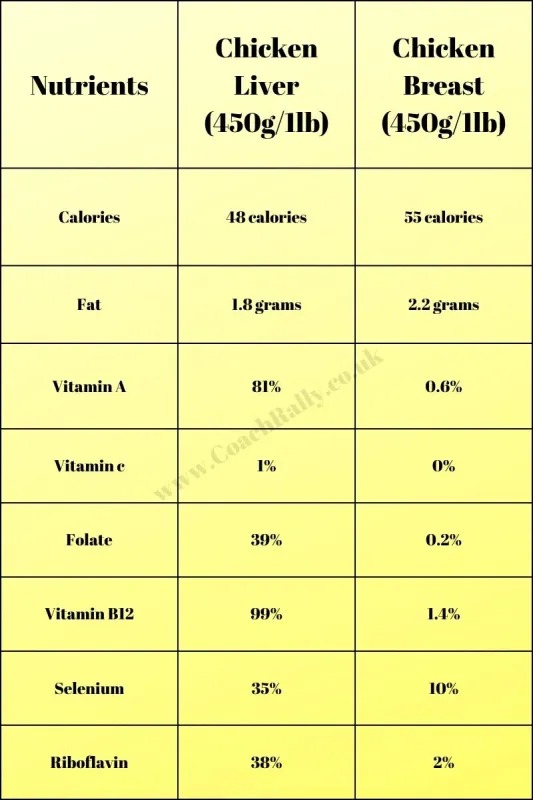 Benefit 1 – Chicken Liver is rich in Iron
I was very anaemic as a child and my doctor always recommended having chicken liver. It did help a lot to be honest. Here is a little bit of information about why it helped me and ever since, I have chicken liver dish once a month.
Iron is an essential mineral that helps our bodies stay oxygenated.
If you don't eat enough iron, you risk becoming anaemic. Common symptoms of anaemia include fatigue, shortness of breath, cold extremities, and headaches. Women are especially susceptible to developing anaemia, since menstruation, pregnancy, and childbirth all increase iron demands.
Chicken liver is rich enough in highly absorbable heme iron to make a tangible impact on serum iron levels. If you're a menstruating woman, pregnant mother, or hard-training athlete, consider using liver as a safeguard against anaemia.
Benefit 2: It is 0 Carbs
That is perfect if you are following the keto diet or low-carb diet.
Benefit 3: Low in Calories.
While most people can reach their ideal weight just by switching over to a high fat, low carb diet, calories are still relevant.
Chicken liver is simultaneously high in protein and low in calories — and that makes it a great choice for people who want to improve their body composition. Adding just a small portion of chicken liver to a meal may increase its overall satiety (that is, you'll feel full faster, and you'll stay full longer).
Benefit 4: Rich in Protein.
Chicken liver is 73% protein by calories. 100 grams of chicken liver contains 116 calories, 85 of which come directly from protein.
The quality of chicken liver protein is also impressive. It's a complete protein that's especially rich in the antiviral, anti-inflammatory amino acid lysine.
Benefit 5: Chicken Liver is Loaded with B vitamins.
If we had to choose a single metric to best highlight chicken liver's nutritional value, we'd probably point to its B vitamin content.
Chicken liver is rich in some of the most important B vitamins. This quality makes it helpful to pregnant mothers, growing children, and anyone else who needs an extra boost of pro-metabolic energy.
Benefit 6: Packed with Vitamin A.
Chicken liver is high enough in vitamin A to be a boon to anyone interested in improving the health of their eyes, skin, hair, and nails. That's because vitamin A plays a vital role in cellular turnover in your eyes and skin cells. It's also a vital precursor (building block) for important eye pigments like rhodopsin.
Indeed, good things happen when your body is replete with vitamin A. Many people notice clearer skin, stronger hair, and better night vision once they incorporate chicken liver or beef liver into their diets.
Chicken liver's ultra-high vitamin A content is also the primary reason why it shouldn't be eaten too often. Vitamin A becomes damaging when your body has too little or too much, so consider eating liver just once or twice a week.
Benefit 7: Selenium As A Pro-Thyroid Mineral

Just 100 grams of chicken liver contains over 100% of your recommended daily value for selenium.
As a pro-thyroid, pro-immunity mineral, selenium may have an added layer of importance in modern times. It's so important for the health of one's immune system that some experts believe selenium deficiency enabled COVID 19's quick initial spread throughout Asia.
Selenium is also a vital component of endogenously produced proteins called selenoproteins. These special proteins handle everything from reproductive health to DNA synthesis.
How to Cook Keto Chicken Liver
Start with washing and cutting the spring onions/shallots. My grandma used brown onions. However, as they are root vegetables, I wouldn't recommend them in this keto recipe.
Heat a frying pan and melt the butter.
Add the spring onions/shallots and fry them for a couple of minutes until they are soft.
Wash thoroughly the chicken liver. This is important as it usually has a small amount of blood in the packaging. Cut it to your desired bite-size bites and add it to the frying pan.
Add all of the dry herbs and fry for about 2-3 minutes until the chicken liver change colour. The colour should be greyish, without pink. Frying the herbs first will increase the flavour.
Pour the water over it and add the xanthan gum. Stir very well to make sure the xanthan gum is mixed equally. Add the bay leaf (you can break it into 4 pieces). If you prefer to have it fried, you can skip this step. Adding the water will create a little bit of sauce/gravy so the dish is not too dry.
Cook for further 5 minutes or until the chicken liver is fully cooked (hard to touch).
Serve with keto mashed potatoes. Recipe here: keto cauliflower mash
The Keto Chicken Liver recipe is available on my YouTube channel HERE!
Connect with me. Click HERE to find me on social media!
I've put together A FREE THE ULTIMATE GUIDE FOR BEGINNERS as a thank you to all my subscribers – it includes all you need to know to start your weight loss journey with Keto Diet. You can download it for free from HERE!
Enjoy!
More recipes here: