This keto chocolate cake, filled with strawberries and cream, is so easy to make. You can even do it in the microwave to save time! It's light, moist and fluffy – so tasty.
This chocolate cake is gluten free, grain free and sugar free. It saves you the carbs but NOT the taste. It's ideal if you want to lose weight and at the same time, enjoy a tasteful low carb dessert.
I wanted a tasty cake for my birthday last week. I was on the hunt for an easy and quick keto recipe so I don't have to spend hours making it. I've had a bit of time to experiment with different keto cake doughs. I decided that this one is the best for my keto birthday cake.
I'll let you know a couple of important steps during the directions as well so you can make sure you get it right from the first time.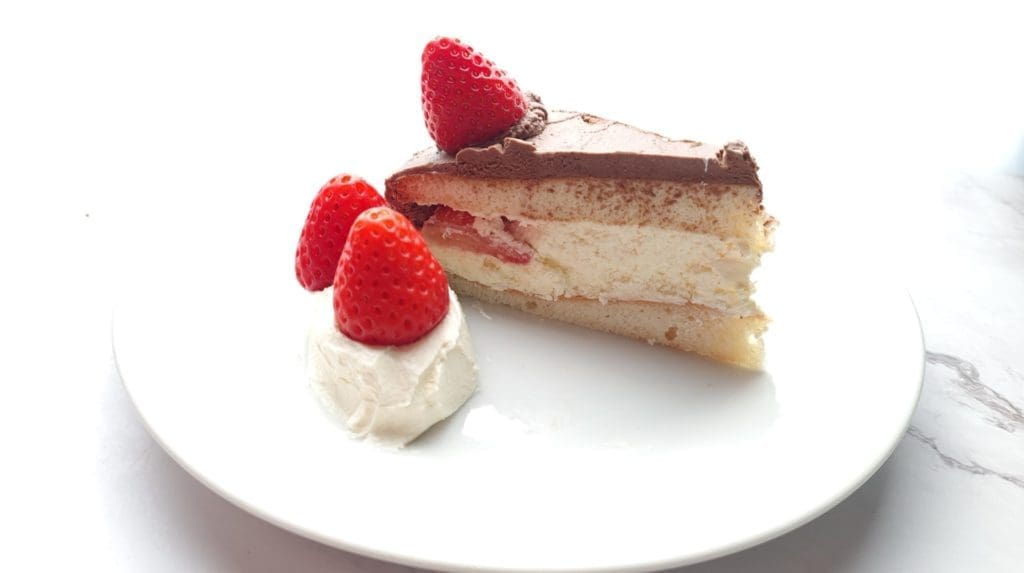 HOW TO MAKE THE KETO CHOCOLATE CAKE?
KETO CHOCOLATE CAKE BASE
First, combine in a bowl the dry ingredients – almond flour, baking powder and sweetener. I used Swerve for sweetener but you can use whatever you have. If it's powdered, it would be better as it will be easier to incorporate with the rest of the ingredients. Mix the dry ingredients well and make sure there are no lumps. You can use a spatula or hand mixer.
Next, add all the wet ingredients – melted butter, egg whites and vanilla extract. Mix well until it forms a dough.
Tip:
Don't be tempted to use whole eggs (egg whites and egg yolks). I did and the result wasn't the same. The cake base was a very dense and cookie-like texture. Not ideal for cake but it was nice for another time.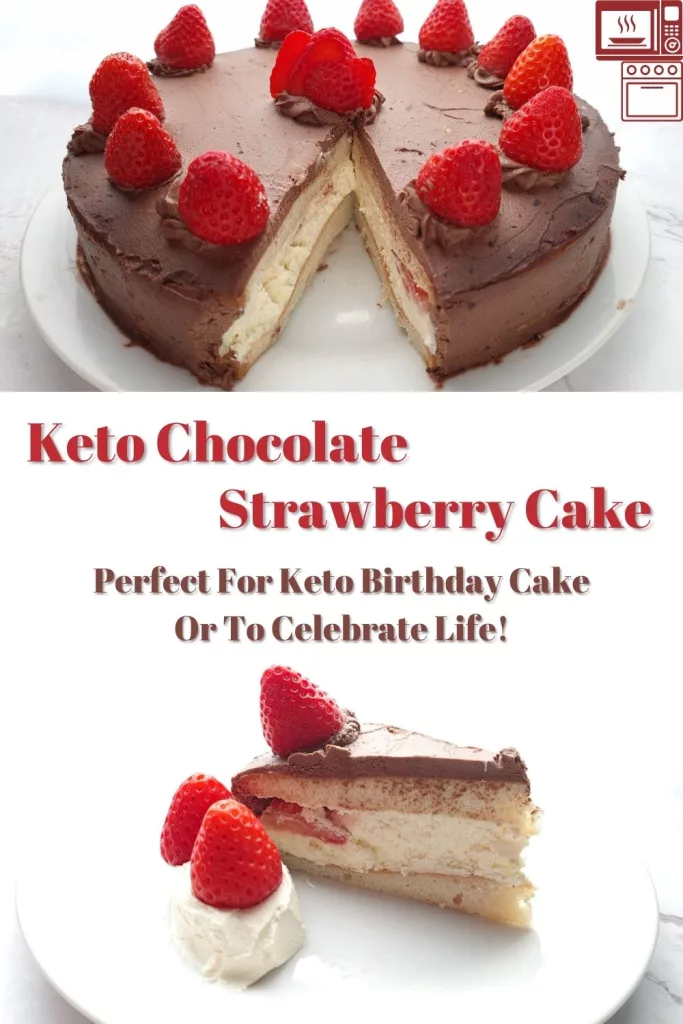 Separate the dough into two equal parts and pour onto two eight-inch cake tins.
Time to cook the dough. You have two choices. You can either cook it in the oven like me or in the microwave. I've tried it in the microwave and it was a little bit on the hard side when it cooled down. Although, I would say, yes it could be good enough for a keto cake base. I've decided to cook the one for my birthday cake in the oven as it was slightly tastier but for a quick fix keto dessert, yes, I would do it again in the microwave.
If you decide to go for the microwave option – cook the dough for three to four minutes on medium heat.
Here is my favorite mug for baking keto mug cakes.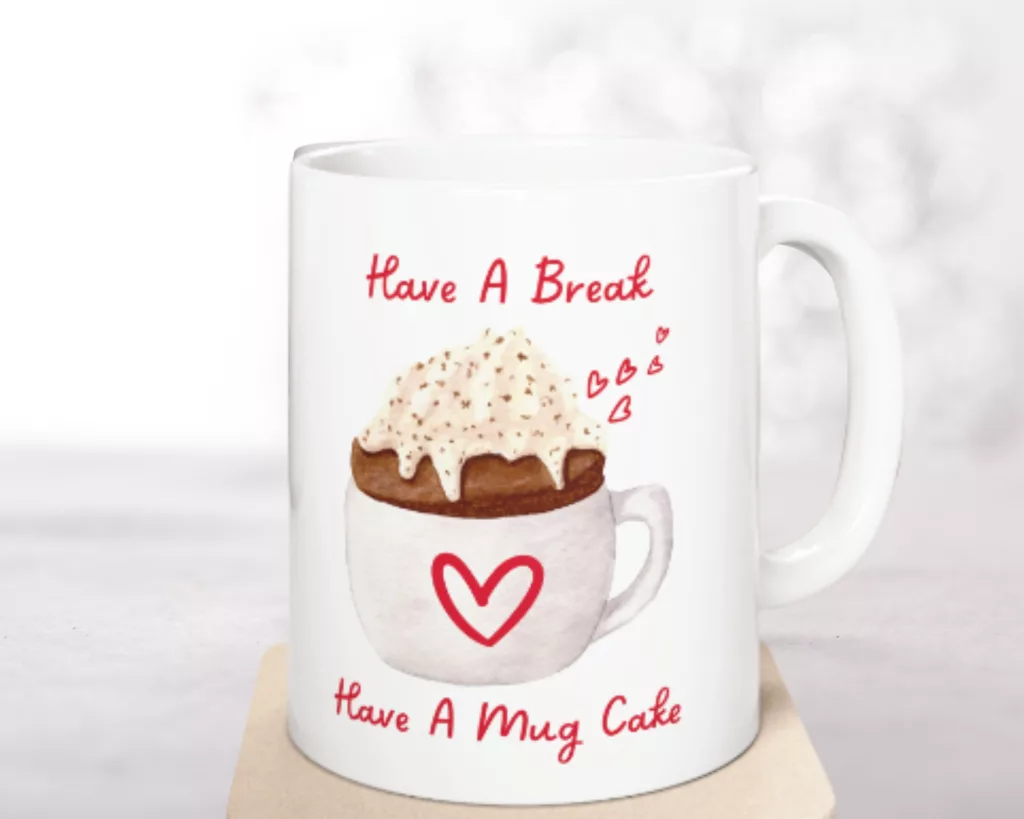 If you decide to go for the oven option – cook the cake base pre-heated oven to 180C/350F for fifteen to twenty minutes.
Leave the keto cake base to cool down before you proceed to the next step (approx. 30 minutes)
KETO CAKE FILLING
Let's start with combining the heavy cream and gelatine and beating the mixture for a few minutes for fluffiness.
Next, add the rest of the ingredients and mix well until you get soft peaks.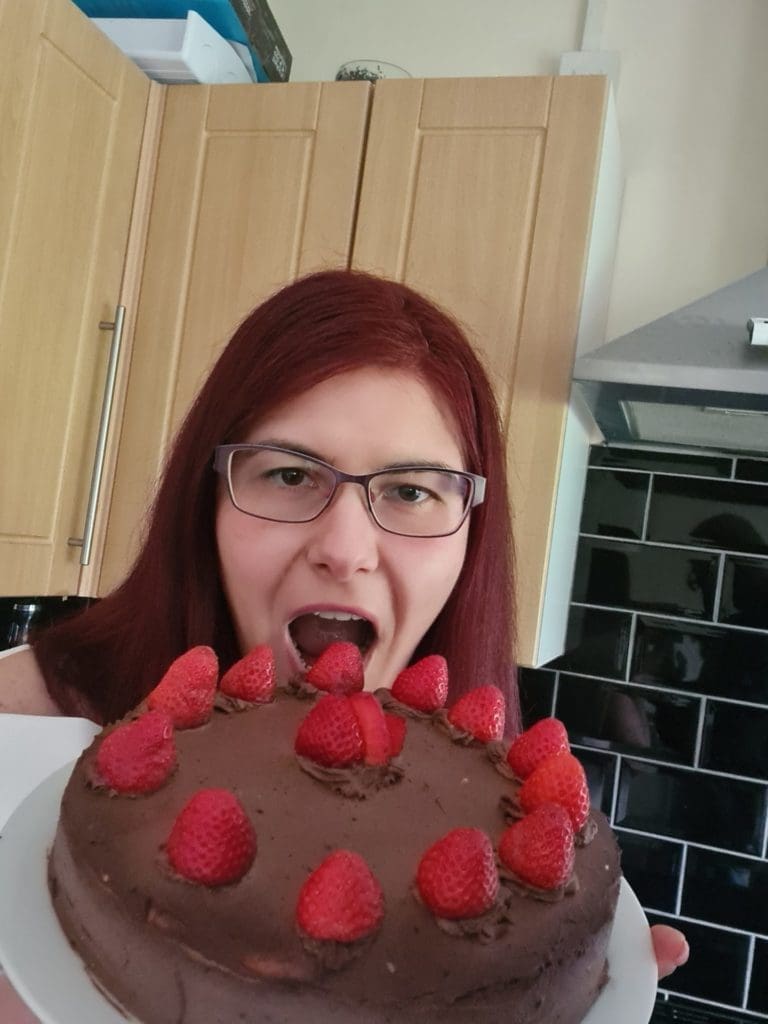 The gelatine is optional here. It helps the filling keep shape as I've had many cases when cream-based fillings turn into a liquid mess.
The next step is to clean and cut the strawberries. How you cut them is your choice. I've sliced them and arranged them flat but if you want, you can keep them whole, especially if they are small.
Keep thirteen (13) strawberries aside for decoration later.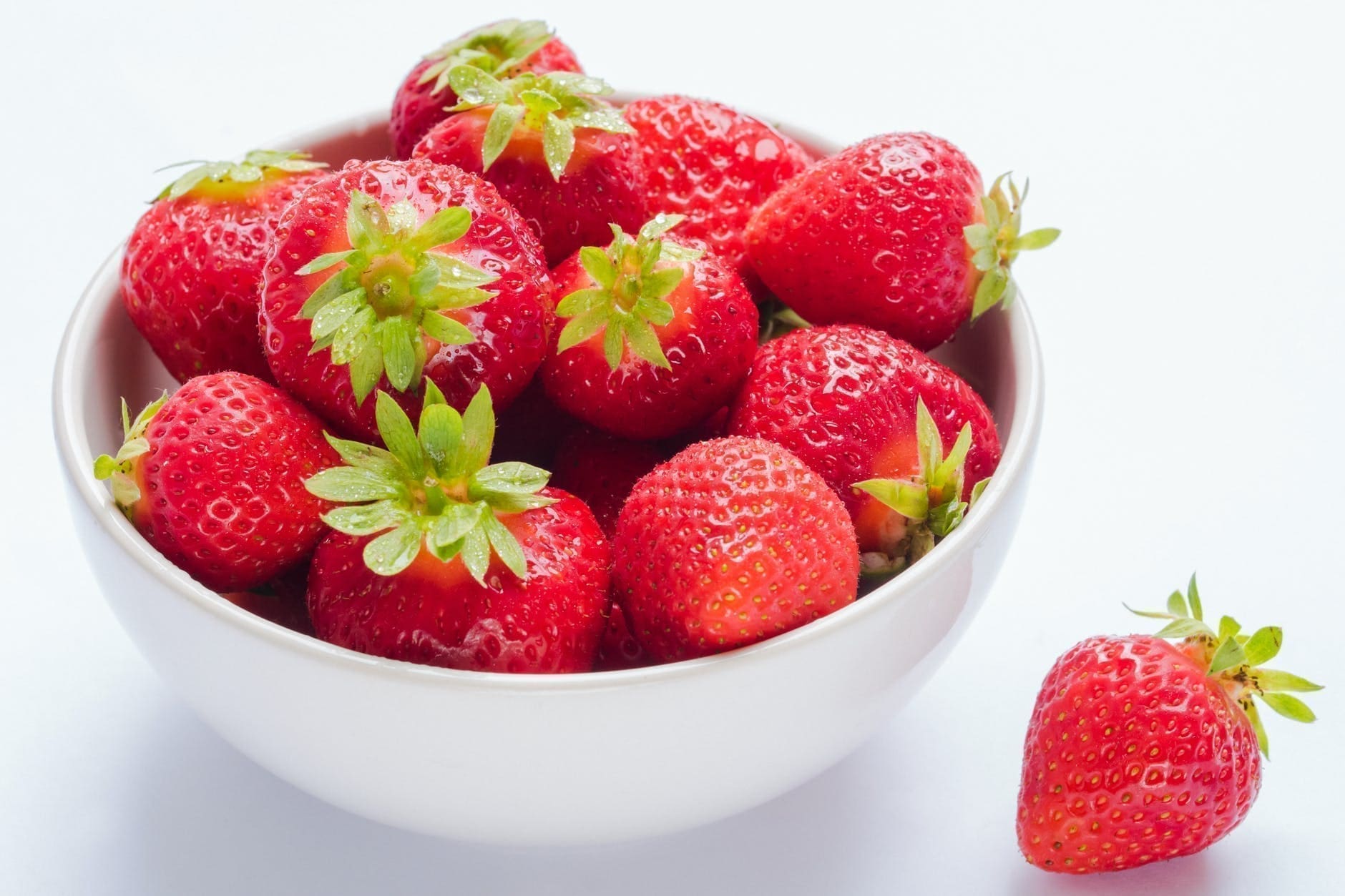 KETO CAKE ASSEMBLING
This stage is easy. Place one of the cake bases on a plate or cake stand and spread about two-thirds of the filling on top of it and the one-third filling on the other base.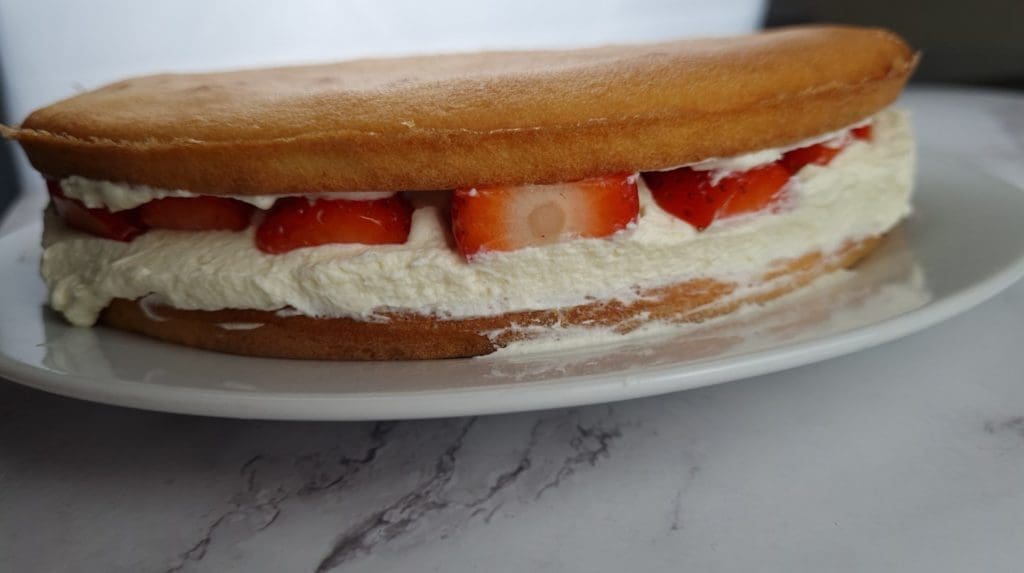 Then, arrange the sliced strawberries on top of the filling and top it with the other cake base.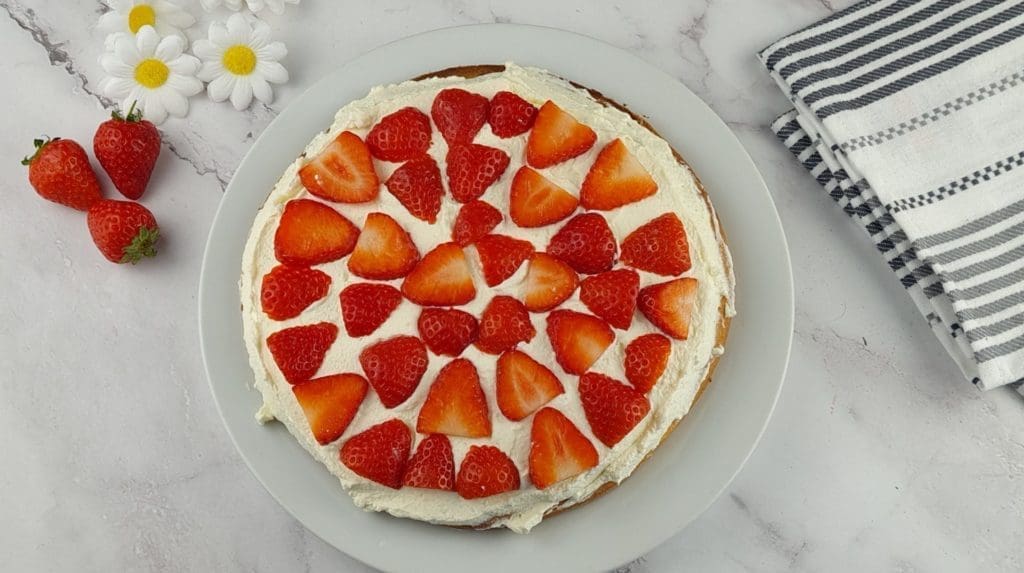 KETO CHOCOLATE GANACHE
I'm using my keto frosting recipe here as I love it. You can use any recipe you like.
Combine all the ingredients and beat with a whisker or hand mixer until you get soft peaks.
FINAL ASSEMBLY
Spread the ganache all over the keto cake (top and sides). Leave a little bit for decoration.
Pipe the leftover ganache creating twelve (12) roses on the edge of the cake and one (1) in the middle. Place the remaining strawberries on top of each rose.
Refrigerate for minimum 30 minutes.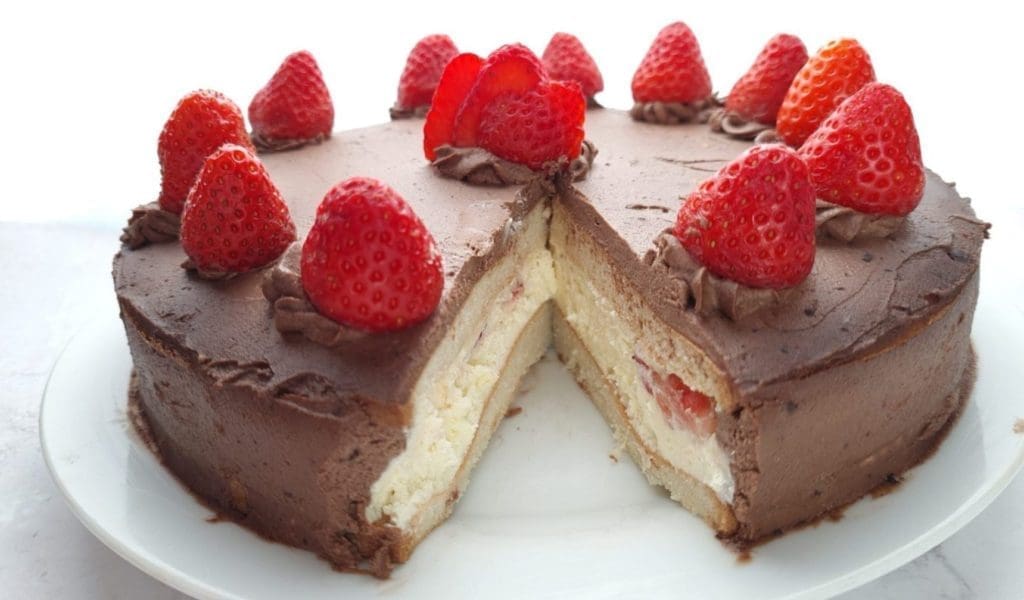 ENJOY!
Don't miss any new recipes! Sign up for my newsletter here: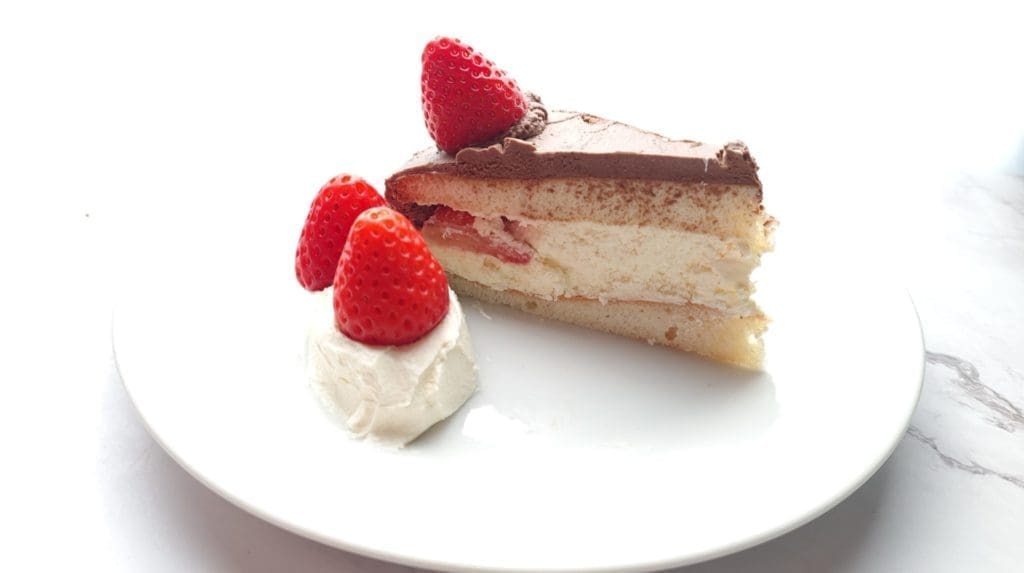 More Keto Desserts here:
What about Keto Ice Cream Sandwiches?
Nutrition Facts
12 servings per container
Serving Size1 slices
---
Amount Per ServingCalories451
% Daily Value *
Total Fat 44.6g

68

%
Total Carbohydrate 19.6g

7

%
Protein 6.7g

12

%
---
* The % Daily Value tells you how much a nutrient in a serving of food contributes to a daily diet. 2,000 calories a day is used for general nutrition advice.
Connect with me. Click HERE to find me on social media!
I've put together A FREE THE ULTIMATE GUIDE FOR BEGINNERS as a thank you to all my subscribers – it includes all you need to know to start your weight loss journey with Keto Diet. You can download it for free from HERE!