The universal EASY basil pesto recipe! Learn how to make homemade basil pesto sauce in 5 minutes, and you'll want to put it on everything. Have you got a lot of fresh basil and wondering what you can do with it? Here is an easy recipe for basil pesto that is keto and low carb as well.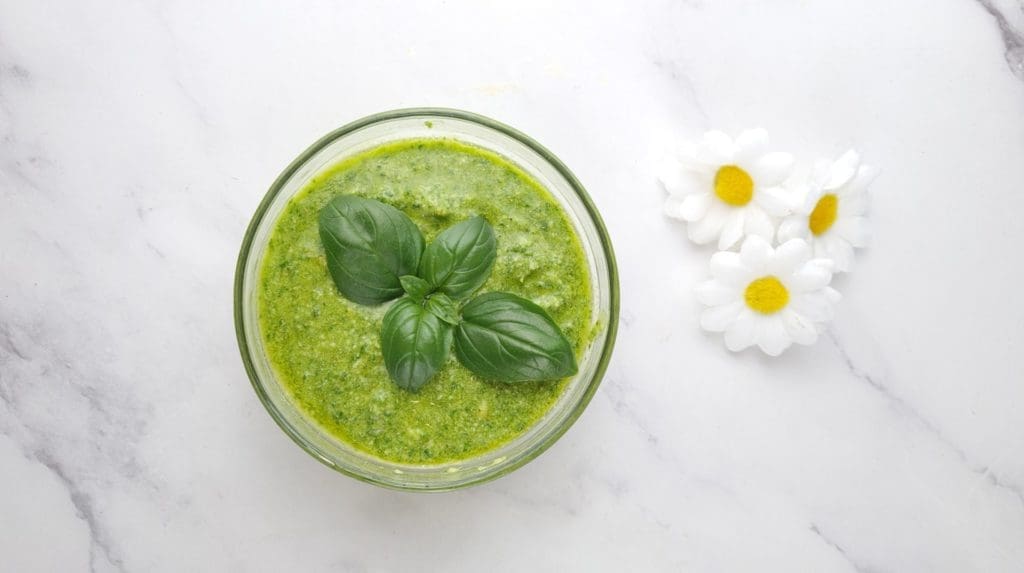 Do you love the smell of fresh basil same as me? I love it so much that I buy basil in a pot and keep it on my window seal so my kitchen smells like fresh basil. It is such a refreshing smell and it always reminds me of these warm sunny days.
I'm going to show you how easy and quick is to make homemade keto basil pesto in only 2 steps.
FIRST, What is Pesto?
Pesto is typically a bright green sauce that originated in Genoa, Italy. The word "pesto" is the past tense of the Genoese verb "pestare," which means "to crush." The fact that pesto is typically made by crushing the ingredients with a mortar and pestle probably has something to do with that too.
Pesto traditionally consists of crushed garlic, European pine nuts, coarse salt, basil leaves, and hard cheese such as Parmigiano-Reggiano (also known as Parmesan cheese) or Pecorino Sardo (cheese made from sheep's milk), all blended with olive oil. That is pretty much what I am going to use today as well. Sounds good?
HOW TO MAKE BASIL PESTO SAUCE
It's really easy to make basil pesto. All you have to do is add all the ingredients into a food processor and pulse the mixture until reaches the desired consistency. That's all.
WHAT IS BASIL PESTO SAUCE MADE OF?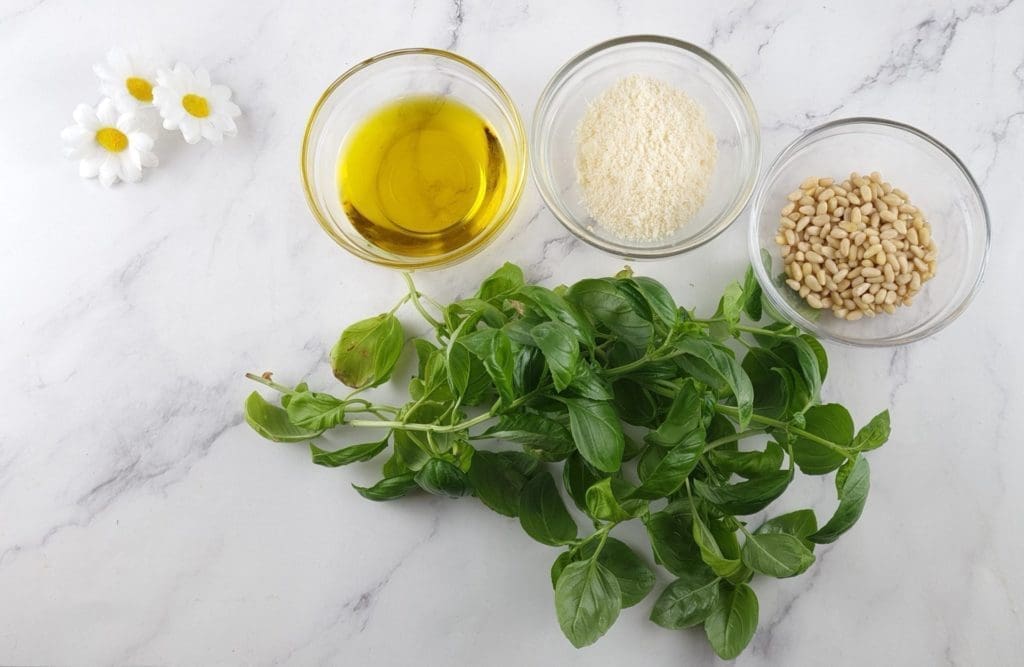 I'm using today:
Pine nuts – you can use any nuts you like. For example, Macadamia nuts, Almond nuts. If you prefer to make it nut-free, you can use seeds like sunflower seeds.
Parmesan cheese – you can use any hard cheese you have. For a dairy-free option, you can use dairy-free cheese or nutritional yeast.
Lemon juice – lemons are not Keto friendly. If you are doing strict Keto, you can omit the lemon juice or use Apple Cider Vinegar.
You can add anything else you want.
HOW TO STORE HOMEMADE PESTO SAUCE?
Homemade pesto sauce can be stored in the refrigerator for about 7-14 days. If you are not going to use it within two weeks, you can freeze it as it freezes really well for up to 6 months!
TIP: Wrap pesto pods with plastic wrap to prevent freezer burn.
RECIPES WITH BASIL PESTO SAUCE
Did you know you can use this basil pesto sauce recipe in so many different ways?
I've recently tried using it for pizza sauce. Yes, I know, it's a little different but tasted amazing. You can have a look at my Keto Pesto Pizza recipe HERE if you want.
What about Pesto Chicken with broccoli and cauliflower?
This Pesto Sauce is so versatile. You can have it as a sauce on the side (cold) or use it as sauce for any dish or even as a salad dressing.
Warn, you can use the Pesto Sauce to stuff chicken or simply pour it over the chicken, top it up with cheese and bake it.
TOOLS TO MAKE HOMEMADE PESTO SAUCE
Tap the links below to see the items used to make this recipe.
Food Processor – This homemade pesto sauce recipe couldn't be easier, thanks to the food processor who does all the hard work! This is the food processor that I have, use, and love.
12-Piece Freezer Container Set – These 2 oz containers are the perfect size for storing extra basil pesto sauce. Or make a few batches when basil is at its peak to freeze for fall and winter.
Do you want to receive every new recipe straight in your email inbox? If yes, subscribe to my FREE Newsletter here:
Nutrition Facts
4 servings per container
---
Amount Per ServingCalories216
% Daily Value *
Total Fat 21.1g

33

%
Total Carbohydrate 4g

2

%
Protein 5.1g

10

%
---
* The % Daily Value tells you how much a nutrient in a serving of food contributes to a daily diet. 2,000 calories a day is used for general nutrition advice.
Connect with me. Click HERE to find me on social media!
I've put together A FREE THE ULTIMATE GUIDE FOR BEGINNERS as a thank you to all my subscribers – it includes all you need to know to start your weight loss journey with Keto Diet. You can download it for free from HERE!