Keto Coconut Ice Cream is made with only 3 ingredients! It takes less than 5 minutes to mix and is ready in only one and half hours. It's keto, sugar free, dairy free, and vegan.
This coconut ice cream is sweet, creamy, and uses coconut milk! Made with just 3 ingredients, there is NO ice cream maker required! 
I know you are impatient to see the keto chicken liver recipe so I'll continue with the tips and tricks below the recipe card for you.
Nutrition Facts
5 servings per container
Serving Size1 servings
---
Amount Per ServingCalories26
% Daily Value *
Total Fat 2.2g

4

%
Total Carbohydrate 1g

1

%
Protein 0.1g

0

%
---
* The % Daily Value tells you how much a nutrient in a serving of food contributes to a daily diet. 2,000 calories a day is used for general nutrition advice.
How to make keto coconut ice cream – tips and tricks
This sugar free ice cream recipe is really easy to make and it's so creamy and full of flavour.
But… Let's start from the beginning.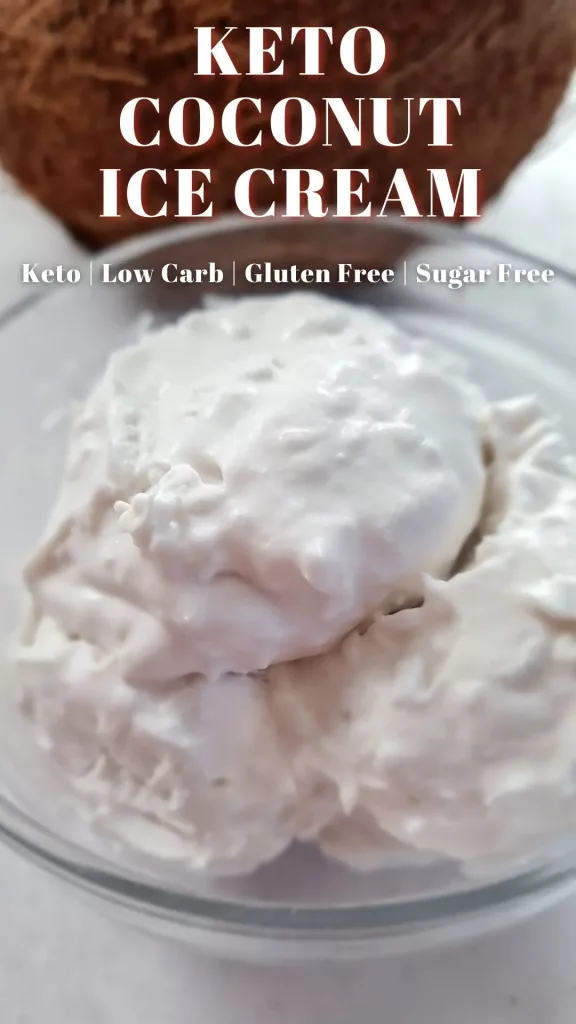 Tip 1: Use Xylitol or Allulose for the best texture
Allulose is not easily accessible, yet, in the UK so I would not be able to confirm the qualities of this sweetener. However, I have seen a lot of American articles about Allulose, confirming that it is, at the moment, the best sweetener for soft texture desserts like ice creams.
I use Xylitol, which is easier to find, here in the UK. I have tried making this ice cream with Stevia and Swerve but the texture wasn't as smooth as with Xylitol.
If you plan to eat, this amazingly tasty ice cream, as soon as it is ready, you can use any sweetener you have.
However, if you want to make a big batch and freeze it for a more extended time, I recommend reading tip 2.
Tip 2: Make a bigger coconut ice cream batch
If you want to make a bigger batch and have it ready for whenever you fancy ice cream, you can.
You can freeze this keto ice cream for up to 6 months. However, I would recommend you add about 1/8 teaspoon of Xanthan Gum for each can (14 oz) of coconut milk you use.
What is that?
Xanthan Gum is used, usually, as a thickener for sauces and soups. This sugar free ice cream recipe is used for keeping the ice cream texture smooth and helps prevent the ice cream to be rock hard when frozen for a longer period. You can read more about this ingredient HERE.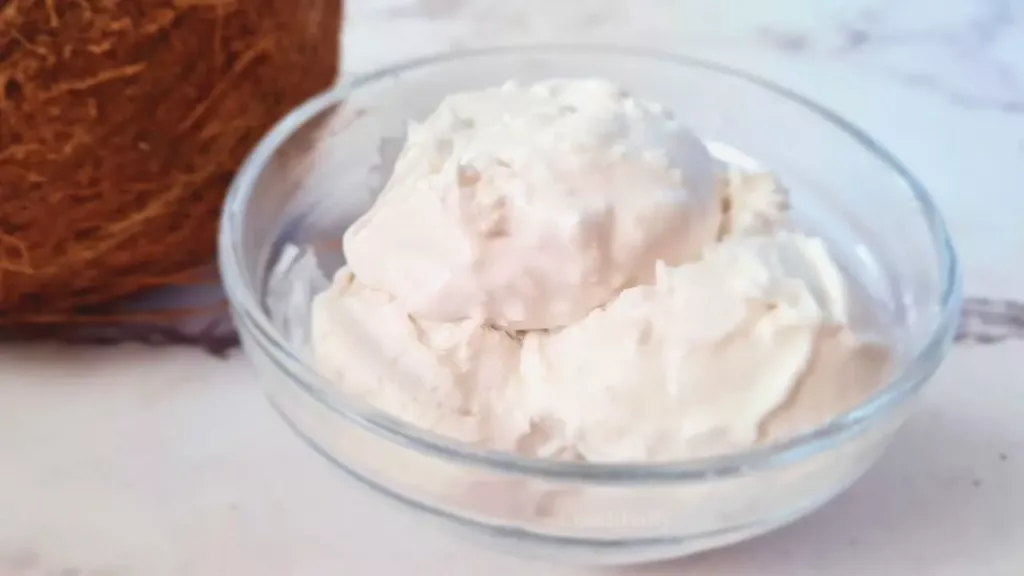 Did you make this recipe? If yes, did you like it? Share your thoughts below.
The Keto Coconut Ice Cream recipe is available on my YouTube channel HERE!
Connect with me. Click HERE to find me on social media!
More ice cream recipes for you here
More recipes here: