Here is my go-to summer favourite Keto Raspberry Cheesecake recipe! This is a no-bake keto dessert that is so refreshing and very easy to make – even beginners can make it without much effort!
THE BEST NO bake Keto Raspberry Cheesecake Recipe HANDS DOWN that is Low Carb, Gluten-Free & Sugar-Free – PERFECT for a Keto treat! Only 4g of carbs and so delicious! A great weight loss recipe – Keto dessert – only 4 carbs per portion! This recipe is a low carb high fat (LCHF) / Clean Keto diet dessert idea for snacking throughout the day or for breakfast, lunch or even dinner dessert. It is for those who are following a ketogenic diet or LCHF diet can relish the taste of cheesecake with this recipe. This is one of my favourite low carb dessert recipes – only 4g of carbs per portion and it is gluten-free and sugar-free too. It's so easy, flavourful and quick to make. You will fall in love with this keto recipe.
Watch how to make this cheesecake on my YouTube Channel!
No bake raspberry cheesecake keto recipe will give you fantastic easy summer dessert. Raspberries and cream cheese on yummy walnut bottom.
It's almost summer and it's getting warmer by the day and I don't like to turn my oven on if I really don't have to. But I just need my low carb desserts. OK, I can admit we all like keto desserts. Why not, when we have our healthy sugar free desserts full of nutrients.
This easy no bake cheesecake with raspberries is packed with healthy fats from walnuts, cream cheese and cream. If you have fresh raspberries you get a nutritious bomb. If you don't have fresh raspberries, frozen will be great too.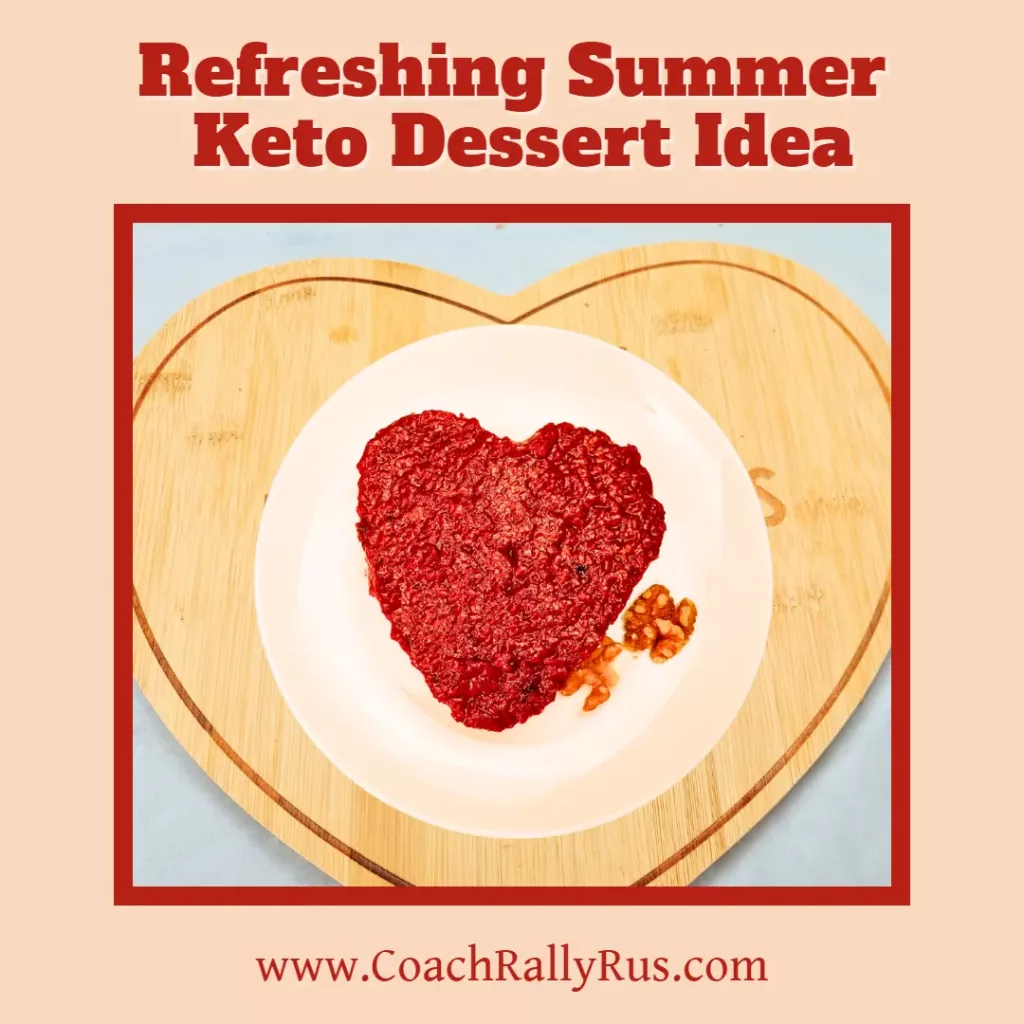 Love healthy dessert recipes? Sign up for my FREE newsletter here:
When raspberries release beautiful smell and taste and in combination with cream cheese, you get a really fantastic flavor.
Instead of raspberries you can use strawberries, blueberries, red currants or whatever berries you have fresh or frozen in your freezer.
INGREDIENTS FOR NO BAKE KETO CHEESECAKE CRUST
1/2 cup (50g) x Walnuts – you can use any nuts you like or even almond flour. I like using walnuts as I love snacking on them.
2 tbsp (25g) x Melted Butter
1 tbsp (10g) x Swerve – you can replace it with any sweetener.
Cream Cheese Layer
6 tbsp (100g) x Cream Cheese
1/4 cup (60ml) x Heavy Whipping cream/Double Cream
3g x Gelatine – I use Dr Oetker Gelatine Powder. If you are using a different brand, please check how much you need to use on the package.
2 tbsp (20g) x Swerve – you can replace it with any sweetener.
1/4 tsp (2.5g) x Vanilla Extract
INGREDIENTS FOR THE RASPBERRY JAM
1/2 cup (75g) x Raspberries
4 tbsp (75ml) x Water
2 tbsp (20g) x Swerve – you can replace it with any sweetener.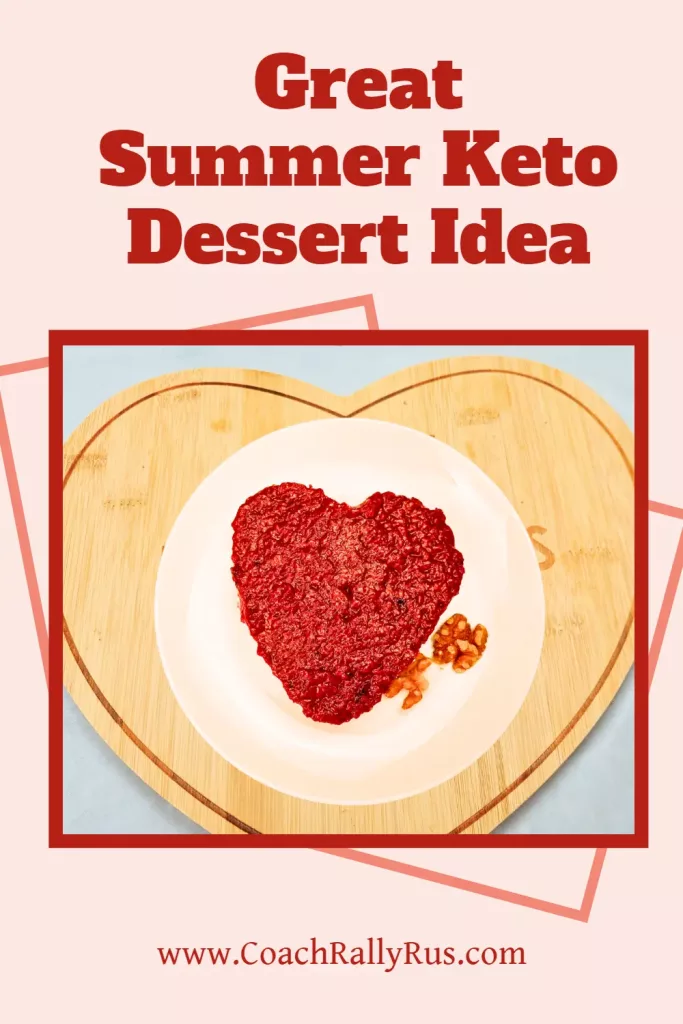 HOW TO MAKE IT?
PREPARE NO BAKE KETO CRUST
Place the walnuts in a blender or food processor.
Once the walnuts are grounded to quite fine powder, you can add the melted butter and sweetener of choice.
Mix it till smooth consistency and place it on the bottom of your cake tin.
I'm using my favourite heart shaped cake tin. It equals five inch round tin.
Press it well and refrigerate for twenty to thirty minutes, while you are working on the cream cheese layer.
PREPARE CREAM CHEESE MIXTURE
Measure three grams of gelatine. I use Dr Oetker animal based gelatine which is Keto friendly.
If you are using different gelatine, please read the instructions on the packaging. You will need gelatine for a hundred fifty millilitres liquid.
Next, mix the gelatine with the heavy whipping cream/double cream.
You can either warm up the heavy whipping cream/double cream first or after you add the gelatine.
In a food processor, add the cream cheese and beat it until it's fluffy.
Add your sweetener of choice and mix it again.
Next, add the heavy whipping cream/double cream with gelatine.
Make sure the mixture is not too hot, otherwise, the cream may curdle.
And the final ingredient for the batter is a quarter of a teaspoon vanilla extract.
And final mix until everything is combined.
Take the crust out of the fridge. It should be hard enough now, and poor the batter over it
You can refrigerate it between one to two hours or until the mixture is firm.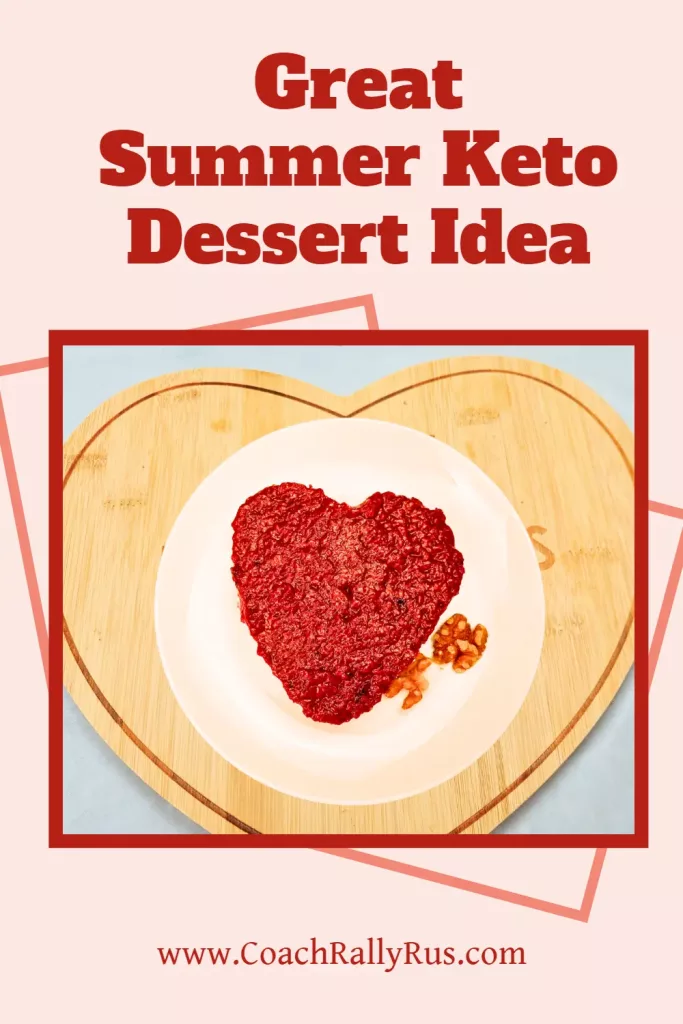 HOW TO MAKE RASPBERRY JAM?
Lets make some homemade raspberry jam.
You can use fresh raspberries or frozen. Add the water and your sweetener of choice.
Let it simmer for about twenty to thirty minutes until thick consistency like jam.
You can use a little bit gelatine to thicken the jam. However, I personally prefer to let it thicken the old-fashioned way like my grandmother use to do when I was a child.
Let the jam cool down while you are waiting for the rest of the cheesecake to harden.
FINAL ASSEMBLY OF THE KETO CHEESECAKE
when the cheesecake is firm, take the jam and place it on top.
ideally, you should refrigerate the cheesecake overnight. But, I usually have it straight away!
Enjoy your homemade keto raspberry cheesecake!
Psssst, you can freeze the whole keto raspberry cheesecake and have it as keto raspberry ice cream cake!
For more recipes like this one, check here:
Keto Strawberry Cheesecake Ice Cream With A Twist – Sugar Free
Nutrition Facts
2 servings per container
---
Amount Per ServingCalories433
% Daily Value *
Total Fat 43g

67

%
Total Carbohydrate 7g

3

%
Protein 8g

16

%
---
* The % Daily Value tells you how much a nutrient in a serving of food contributes to a daily diet. 2,000 calories a day is used for general nutrition advice.
Connect with me. Click HERE to find me on social media!
I've put together A FREE THE ULTIMATE GUIDE FOR BEGINNERS as a thank you to all my subscribers – it includes all you need to know to start your weight loss journey with Keto Diet. You can download it for free from HERE!