Keto strawberry frozen creme fraiche is rich and creamy, and bursting with fresh berry flavor. This no-churn recipe is so easy to make, with only 2 ingredients, 2 more optional, and only 5 minutes of prep time. It's only 1.8g of net carbs per serving!
This keto strawberry frozen yogurt like recipe is the perfect low carb ice cream that will keep you on track with your health goals. Made with luscious strawberries and creamy crème fraîche, this sugar-free dessert will leave you craving for more. Get ready to indulge in a delightful and refreshing keto-friendly treat!
The Dynamic Duo: Strawberries and Crème Fraiche
Strawberries are a great option if you want to eat fewer carbs. They're really good for you because they have antioxidants and taste sweet naturally. When you mix them with a creamy crème fraîche (yogurt like), it makes a delicious combination. You'll love the taste and texture, and want more. You'll enjoy the balance of tangy and fruity flavors in every bite.
Tips for a dairy-free option for keto strawberry frozen creme fraiche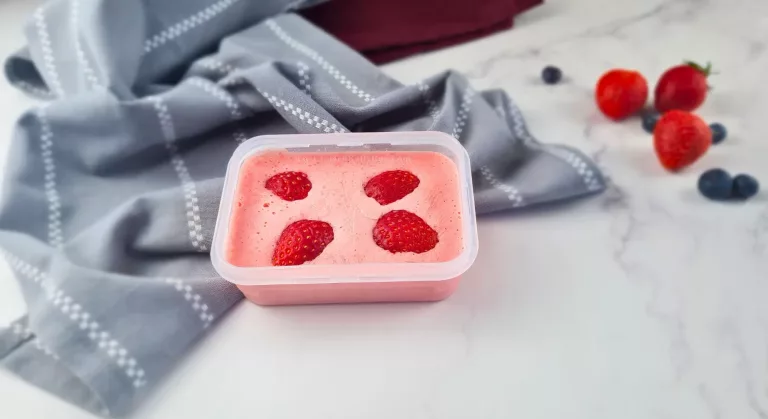 If you don't want to use dairy in your ice cream, switch the creme fraiche for coconut cream. To make the coconut cream, put the can in the fridge overnight. The next day, open the can and take out the solid coconut cream with a spoon. Don't shake the can before opening it. One 400 gram can will give you about 200 grams (1 cup) of coconut cream.
Ingredients For Keto Creme Fraiche
1/2 cup frozen strawberries
1 cup crème fraîche (or yogurt)
Powdered sweetener (optional, to taste)
Why This Combination Of Ingredients?
When it comes to creating a truly irresistible low-carb ice cream, the choice of ingredients plays a crucial role.
Strawberries are a yummy and healthy fruit that tastes great in keto-friendly desserts. They are small, colorful, and have lots of antioxidants, vitamins and fiber. You can use fresh or frozen ones in your dessert, and they go well with the creamy base.
I use crème fraîche instead of yogurt in our ice cream base. This makes the ice cream rich, velvety, and less sour. Crème fraîche has more fat than yogurt, which creates a more luxurious mouthfeel and enhances the blueberry flavor to make every bite heavenly.
Enjoy a delicious and healthy dessert with this low carb keto strawberry frozen crème fraîche. The combination of strawberries and crème fraîche makes for a delightful treat that is both low in carbs and high in taste. Each spoonful is a perfect balance of natural sweetness and creamy texture.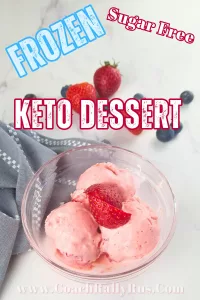 To ensure that you get the best possible results and the healthiest version of this delicious keto ice cream, I recommend using high-quality, organic ingredients whenever possible.
Choosing organic ingredients for your dessert is a good idea because it helps you avoid harmful chemicals like pesticides, herbicides, and genetically modified organisms that might be in non-organic foods. And, organic ingredients usually provide more nutrients, better flavor, and natural goodness which makes your dessert taste even better.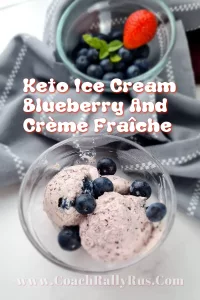 Instructions How To Make Keto Frozen Crème Fraîche
Making your own low carb strawberry and crème fraîche keto ice cream is easy with just a few simple steps. I'll guide you through the process to make sure your frozen dessert comes out creamy and delicious.
To make the ice cream, put frozen strawberries in a blender or food processor. These will give a sweet taste to every bite. I suggest freezing fresh strawberries to avoid added sugar. Check the package of frozen fruit for added sugar content.
Add the crème fraîche or yogurt to the blender. This creamy ingredient makes the ice cream smooth and velvety. Use crème fraîche for a creamier and less tangy flavor.
Mix the ingredients until they turn smooth and creamy. The mix should feel like a thick, fancy smoothie. Taste it and add some powdered sweetener if you want it sweeter, to fit your taste.
After mixing the ingredients well, put them in a container that can be kept in the freezer. This will make sure that the low carb ice cream freezes equally and remains delicious.
Put the container in the freezer for an hour. Take it out then you can eat it or save it for later. If you want to save it, mix it with a spatula first to make it smoother. Put it back in the freezer until it's as hard as you like.
By following these simple steps, you'll be rewarded with a heavenly treat that is both low in carbs and full of creamy delight.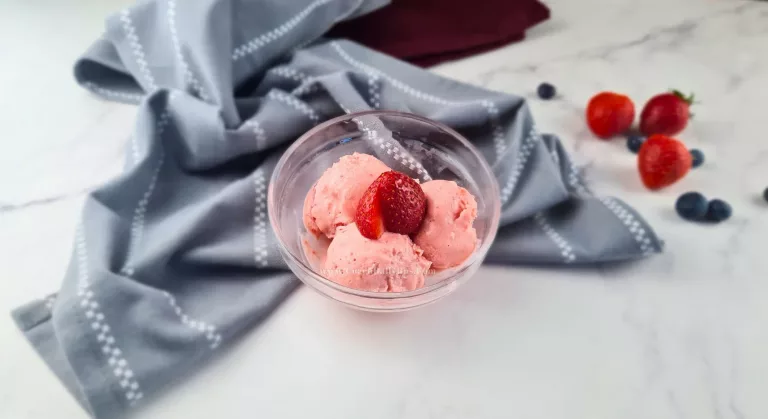 Frozen Strawberries: Using frozen strawberries in this recipe ensures a creamy and chilled consistency. If fresh strawberries are used, the texture may vary.
Crème Fraîche Substitute: If crème fraîche is not available, you can substitute it with full-fat yogurt, coconut milk or heavy cream. Keep in mind that the taste and texture may differ slightly.
Sweetener Options: Powdered sweetener can be added to enhance the sweetness of the keto ice cream. Choose a low-carb sweetener of your preference, such as swerve, allulose or stevia, and adjust the amount according to your desired sweetness.
Freezing Time: The recommended freezing time of 1-2 hours is a guideline. Feel free to adjust the duration based on your desired firmness. Longer freezing times will result in firmer ice cream.
Softening the Ice Cream: Prior to serving, allow the ice cream to sit at room temperature for a few minutes to soften slightly. This will make it easier to scoop and enhance the creamy texture.
To keep the keto frozen crème fraîche tasty and creamy, eat it within 1-2 weeks. If you store it for too long, it might become less creamy and have ice crystals.
To enjoy ice cream again, take the container out of the freezer and let it sit in the fridge for a bit. Or leave it outside for a short while, but be careful it doesn't melt.
Enjoy Low Carb Strawberry and Crème Fraîche Blender Keto Ice Cream! It's simple to make, delicious tasting, and good for you. It has the natural sweetness of strawberries and the creaminess of crème fraîche. This dessert will become a favorite in your low-carb recipe collection. Treat yourself to a heavenly flavored frozen dessert and feel good knowing you're nourishing your body with a wholesome treat. Make memories of indulgence without the guilt – try this recipe today!
Are you in search of further inspiration for keto-friendly desserts? How about trying out some of these recipes?