Do you love pumpkin desserts? This keto pumpkin dessert is perfect for you! It's low-carb, keto-friendly, and it's SO delicious! If you're looking for a delicious and keto-friendly dessert, then you need to try this keto pumpkin dessert! It's perfect for a keto diet, and it's sure to be a hit at your next party or dinner party!
Pumpkin is such a versatile fruit (yes, it's a fruit). It can be used in so many different ways. You can make:
flavourful savory pumpkin soups,
pumpkin spice lattes,
pumpkin muffins,
pumpkin pies,
roast pumpkin.
Are pumpkins a fruit or a vegetable? What is the difference between the two?
A pumpkin, from a botanist's perspective, is a fruit because it's a product of the seed-bearing structure of flowering plants. Vegetables, on the other hand, are the edible portion of plants such as leaves, stems, roots, bulbs, flowers, and tubers. As pumpkins are less sweet and more savoury from a culinary perspective, we categorize them as a vegetable.
In my childhood, my grandparents were growing their own pumpkins (and other fruits and vegetables). I was spoiled to a degree as I've always had homegrown organic pumpkins.
And, of course, lots of pumpkin-flavoured desserts.
Roast pumpkin was the go-to pumpkin dessert. It doesn't require a lot of preparation. You can flavour it as you want as well.
In this keto pumpkin dessert recipe, I'm sharing my favourite flavour.
Tips On How To Choose Pumpkin For Keto Roast Pumpkin
Different varieties of pumpkin make different puree textures and flavors, so while you can use any pumpkin for puree, they'll give different results.
You can also try using different varieties of winter squash:
Butternut squash has orange flesh, a very dense texture, and a sweet flavor,
Kabocha (Japanese squash) has yellow flesh, an earthier flavor, and turns fudgy once cooked.
The orange pumpkins, which we see everywhere at Halloween, usually don't have much flavor and can have watery flesh.
How To Make Keto Roast Pumpkin
This is a very simple dish to create.
First, wash your pumpkin and remove any packaging and labels (if any).
Next, slice the pumpkin. You can choose what shape you like. I always cut mine quite chunky.
This is the interesting part – flavoring!
You can flavor your roast pumpkin dessert as you wish. I would highly suggest you try the simple combination of cinnamon and sweetener. It tastes so good and the whole kitchen smells fantastic!
Another way to flavor your low carb pumpkin dessert is… sweetener. Yes, just sweetener. I use granulated Stevia. The granulated sweetener melts over the pumpkin and creates a good flavor.
One more idea on how to flavor your pumpkin dessert is with pumpkin spice.
A lot of ideas for a pumpkin dessert above. However, you can choose to create a savory snack as well. That's for another post.
Preheat your oven to 200C/400F. Place your pumpkin slices on an oven-proof tray and let them roast for 20 to 30 minutes. Please adjust the time according to the size of your slices.
That's all! Enjoy!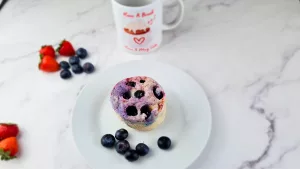 Savor keto bliss with a Keto Blueberry Mug Cake: gluten-free, coconut flour-infused, and bursting with blueberry goodness! Moist, tender keto mug cake recipes.
Read More »