Do you love pizza but can't eat it because of following keto diet? I have a solution for you! I will show you how to make a flourless keto chaffle pizza. This pizza will be crispy and delicious. In my post, I will explain what a chaffle pizza is and give you tips on how to make it perfectly. You will be able to indulge in your favorite food without feeling guilty. Your friends and family will be impressed with your cooking skills when they try this tasty recipe.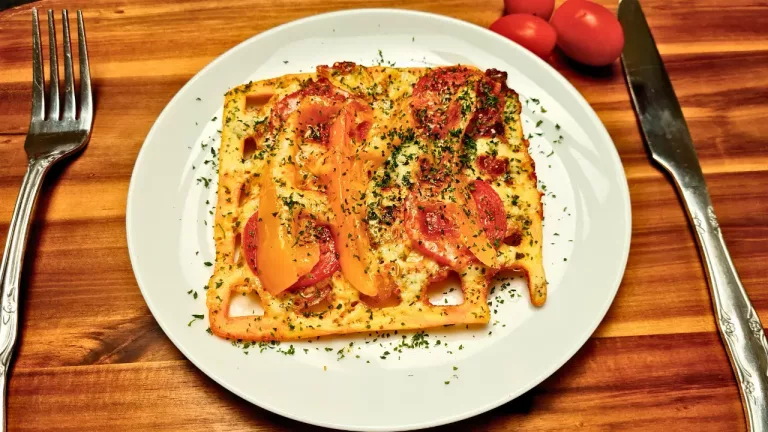 Embrace the deliciousness of chaffle pizza! This innovative take on pizza offers a crust that's not only keto-friendly but also gluten-free. Chaffles – waffles made with eggs and cheese – create the perfect base for those looking for a healthier alternative. Even if you're not adhering to a special diet, chaffle pizza is a delightful and savory way to enjoy your pizza. So, next time you're in the mood for pizza, open your mind (and your taste buds) and give chaffle pizza a try. Who knows, it may become your new favorite indulgence!
Are you ready to revolutionize your pizza game? Elevate your crust to a new level by trying out a chaffle pizza which uses cheese and eggs. Not only is it crispy and satisfying, it is also low in carbs and gluten-free. Incorporating cheese into the crust adds a rich and tasty flavor that pairs perfectly with whatever toppings you choose. Say goodbye to the guilt that comes with indulging in your favorite food and make the healthy switch. Not only will you be enjoying a delicious keto meal, but you will also be nourishing your body with nutritious ingredients that will energize you throughout your day. Start your journey towards a healthier lifestyle by enjoying every bite of your keto chaffle pizza.
Now that you know about chaffle pizza and why it's good to have a crust without flour, it's time to make your own crispy keto chaffle pizza.
Are you ready to take your chaffle pizza to the next level of health and flavor? Let me inspire you to try a flourless crust! By removing the high-carb and gluten-filled flour, you can create a nutrient-packed masterpiece that is satisfying for your body and your taste buds.

Choosing a flourless crust made with cheese and egg can not only reduce inflammation and digestive problems, but also provide your body with the protein and healthy fats it needs to function at its best. So let yourself be inspired by this delicious and nutritious option and go try it for yourself!
Enjoy every bite of your favorite pizza with enhanced flavors from the cheese. Treat yourself to the simple satisfaction of true deliciousness. Savor the moment and indulge in the pleasure of a perfect pizza.
Now that you understand the benefits of going flourless, it's time to gather the ingredients you'll need to create this delicious and healthy chaffle pizza.
Ingredients You'll Need For Flourless Keto Chaffle Pizza
Try savory chaffle pizza for a tasty low-carb meal! The crust is made with just egg and shredded mozzarella cheese. Add your choice of toppings for a delicious and healthy treat. Be creative and discover your perfect chaffle pizza combination with different ingredients and flavors. Enjoy a satisfying meal without any guilt.
We're making a healthier waffle recipe by removing almond flour, reducing carbs and making it lighter for weight loss and better health.
Customize your low carb chaffle pizza by adding herbs like basil, garlic powder, and oregano, or toppings like pepperoni, mushrooms, and bell peppers. Keep exploring in the kitchen and enjoy a tasty and healthy meal.
You have all the ingredients needed to make a delicious keto chaffle pizza. Just follow the step-by-step instructions below to get started.
1/3 cup Shredded Mozzarella Cheese
1 x Egg
1 tsp Basil
1 tsp Oregano
1 tsp Parsley
4 slices Pepperoni
1 tbps Chopped Yellow Pepper
1 tbsp Cheddar Cheese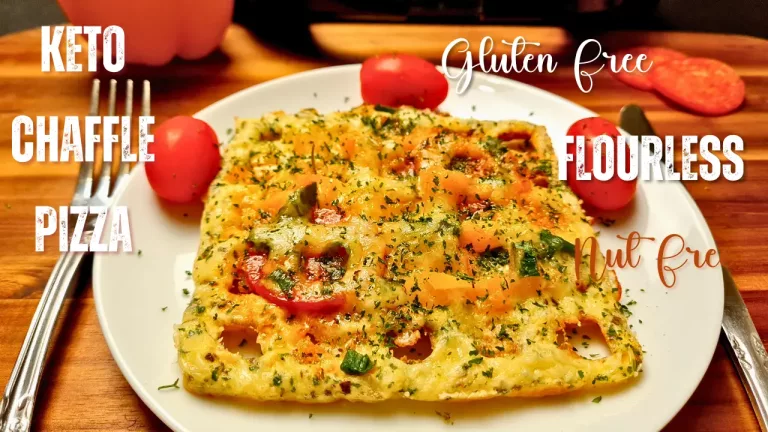 Shredded Mozzarella Cheese: Mozzarella cheese is originally from Italy. It's known for its stretchy texture when melted. Mozzarella is made from buffalo milk or cow's milk. It's a good source of protein and calcium.
Egg: Eggs are considered a nutritional powerhouse as they are an excellent source of high-quality protein and contain essential vitamins and minerals. The color of an egg's shell does not affect its nutritional value or taste. It's determined by the breed of the hen.
Basil: Basil is an aromatic herb often used in Italian cuisine. It's known for its distinctive sweet and slightly peppery flavor. It's believed that basil originated in India and was considered a sacred herb in ancient cultures.
Oregano: Oregano is a herb commonly used in Mediterranean and Mexican cuisine. It's known for its strong, earthy flavor. It has been used for centuries in traditional medicine for its potential health benefits, including antibacterial and antioxidant properties.
Parsley: Parsley is a versatile herb with a fresh, slightly bitter taste. It's often used as a garnish or ingredient in various dishes. It is rich in vitamins A, C, and K, and has been traditionally used for its diuretic and digestive properties.
Pepperoni: Pepperoni is a popular Italian-American variety of salami. Usually made from cured pork and beef seasoned with paprika or chili powder. The name "pepperoni" comes from the Italian word "pepperoni,". It refers to bell peppers, although it doesn't traditionally contain them.
Yellow Pepper: Yellow peppers, also known as bell peppers or sweet peppers, are a rich source of vitamins A and C. The yellow color in bell peppers indicates that they are fully ripe, and they have a sweeter flavor compared to green peppers.
Cheddar Cheese: Cheddar cheese is a widely enjoyed cheese variety originating from England, known for its rich, creamy, and slightly sharp flavor. It is named after the village of Cheddar in Somerset, England, where it was originally made.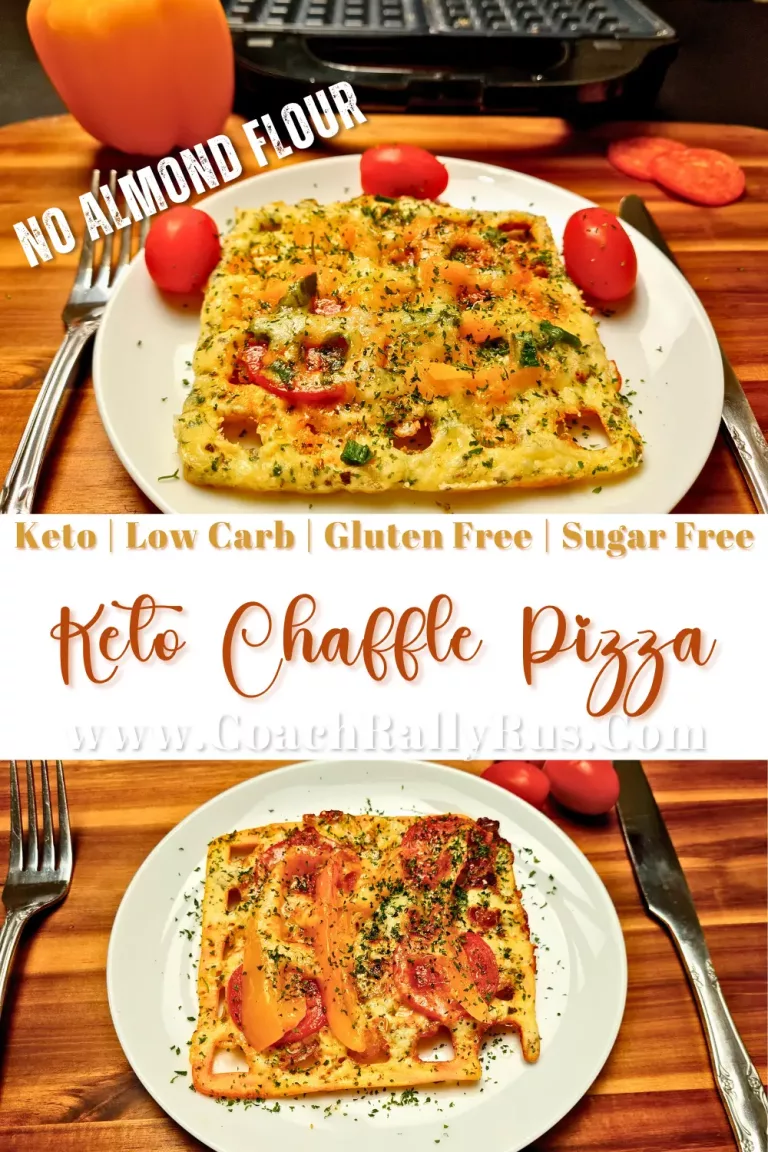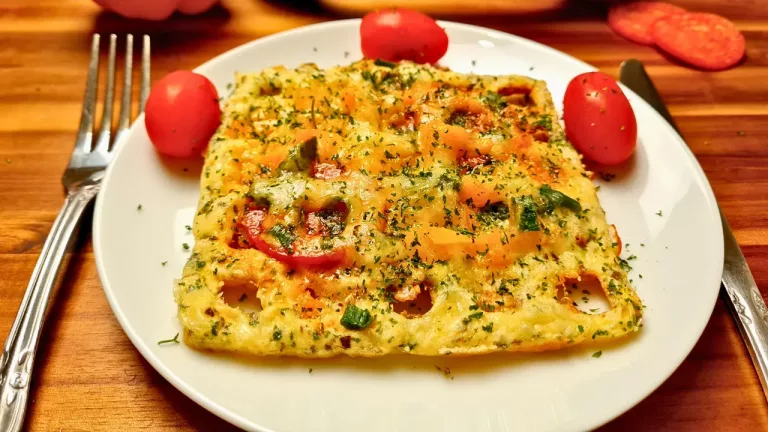 Step-by-Step Instructions How To Make Crispy Keto Chaffle Pizza
To make your own perfectly crispy and delicious keto chaffle pizza, follow these easy step-by-step instructions.
Preheat your waffle maker: Before starting the chaffle pizza preparation, preheat your waffle maker by following the specific instructions provided by the manufacturer. This ensures that the chaffle cooks evenly and achieves the desired texture.
Mix the egg and shredded mozzarella cheese: In a mixing bowl, combine one egg and 1/3 cup of shredded mozzarella cheese. Use a fork or whisk to thoroughly mix the ingredients until they are well combined. The combination of egg and cheese will provide the base for the chaffle pizza.
Pour the mixture and cook: Pour the egg and cheese mixture into your preheated waffle maker. Close the lid and cook for approximately 2-3 minutes, or until the chaffle becomes slightly golden brown. Cooking times may vary depending on the specific waffle maker.
Arrange the toppings: Once the chaffle is cooked, it's time to arrange the toppings. Place the pepperoni and chopped yellow pepper evenly over the cooked chaffle. This step allows you to customize the pizza with your preferred ingredients.
Sprinkle the extra mature cheddar cheese: Sprinkle the extra mature cheddar cheese on top of the toppings. The extra mature cheddar cheese is the secret ingredient that adds a flavorful and crispy element to the chaffle pizza. Its distinct taste and texture enhance the overall experience.
Cook for further 2-3 minutes: Close the lid of the waffle maker once again and cook the chaffle pizza for an additional 2-3 minutes. This step ensures that the toppings are heated through and the cheese melts to create a delicious, cohesive pizza.
Optional – Tomato sauce layer: If desired, once the chaffle pizza is fully cooked, you can spread a layer of tomato sauce onto the chaffle. Leave a small border around the edges to prevent any sauce from overflowing. This step adds an extra burst of flavor and completes the pizza experience.
Now that you know how to make your own keto chaffle pizza, let's take a look at some tips to ensure it comes out perfectly crispy every time.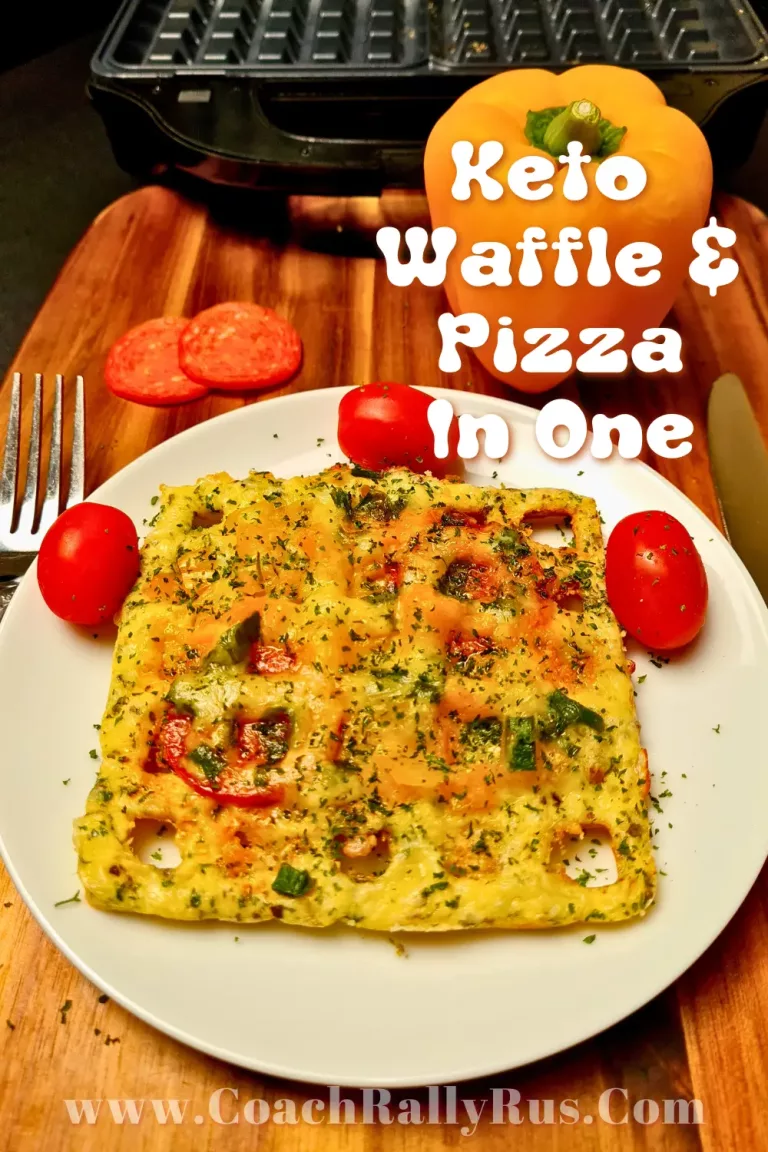 Tips for Perfect Crispy Chaffle Pizza
To achieve that perfect crispy texture, there are a few things to keep in mind when making chaffle pizza.
Before proceeding, ensure that you thoroughly squeeze out any excess moisture from the mozzarella cheese to avoid a soggy chaffle. It is recommended to use pre-shredded mozzarella cheese. It contributes to a better chaffle texture.
Also, be sure to preheat your waffle maker or mini waffle maker to ensure even cooking and browning.
Another helpful tip is to use cooking spray to prevent sticking and make removal easier. And when it comes to toppings, less is more for a crispy chaffle pizza. Adding too many toppings can weigh down the chaffle and create a softer texture.
By following these tips, you'll be well on your way to achieving that perfectly crispy chaffle pizza every time. Impress your friends and family with this delicious and unique low-carb meal option.
Impress Your Friends and Family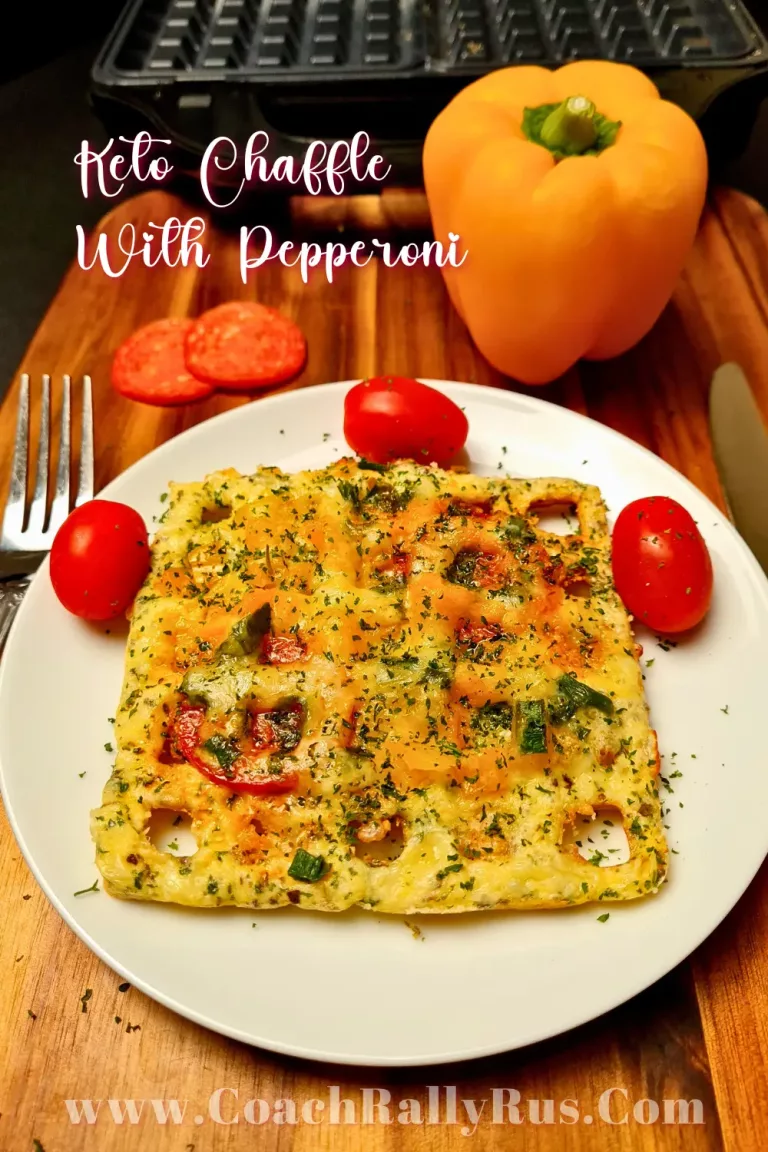 One of the best things about making chaffle pizza is how impressive it looks. Your friends and family will be amazed by this low-carb pizza option that's as delicious as it is unique. But, as we all know, presentation is only half the battle. Luckily, with these helpful tips, you'll be able to impress your loved ones with a perfectly crispy chaffle pizza every time.
Let it cool: Allow the chaffle to cool completely before storing. This helps prevent excess moisture from building up and keeps the chaffle from becoming soggy.
Store in an airtight container: Place the cooled chaffle in an airtight container or sealable plastic bag. Ensure that it is tightly sealed to maintain freshness and prevent any odors from permeating.
Refrigerate: Store the chaffle in the refrigerator to keep it fresh. The cool temperature helps to inhibit bacterial growth and maintain its quality.
Consume within 2-3 days: For optimal taste and texture, it is recommended to consume the chaffle within 2-3 days of making it. Beyond this timeframe, the chaffle may lose its crispness and become less enjoyable.
Reheat before serving: When ready to eat, reheat the chaffle in a toaster or oven to restore its crispness. Avoid using a microwave, as it may make the chaffle soft and less desirable.
In conclusion, with my easy-to-follow recipe and tips, you can achieve the perfect crispy crust for your keto chaffle pizza. By using flourless ingredients and following my step-by-step instructions, you'll be able to impress your friends and family with your delicious keto baking skills.
Remember to share this recipe with others to spread the joy of flourless chaffle pizza. As Julia Child once said, "People who love to eat are always the best people." And with this pizza, you'll be one of the best people around.
Are you in search of further inspiration for keto-friendly recipes? How about trying out some of these breakfastrecipes?