Are you in the mood for something sweet and decadent, but still want to stick to your low-carb keto diet? Look no further than this delicious chocolate lava cake recipe! With a rich and gooey center that's ready in just minutes, this recipe is perfect for satisfying your sweet tooth without the guilt. Made with almond flour, unsweetened cocoa powder, and sugar-free sweetener, this dessert is both low-carb and keto-friendly, with just 3.5g of net carbs per serving. Whether you're looking for a quick and easy dessert for a weeknight treat or want to impress guests with a delectable chocolate dessert, this keto lava cake recipe is sure to hit the spot!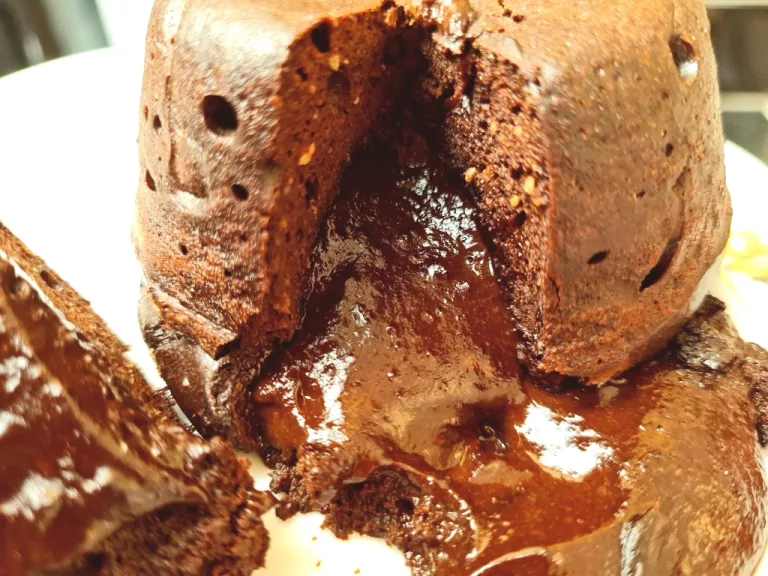 Ingredients For Keto Chocolate Lava Cake
Creating a delicious and satisfying low-carb dessert doesn't have to be complicated. With just a few simple ingredients, you can whip up a decadent chocolate lava cake that's both gluten-free and keto-friendly.
Almond flour provides a nutty and slightly sweet base, while melted salted butter adds richness and depth of flavor. High-quality cocoa powder gives the cake a deep chocolatey taste without any added sugar. Eggs bring moisture and structure to the cake, while baking powder helps it rise and become light and fluffy. To sweeten the cake, I use Swerve (you can use other sweeteners), a natural, calorie-free sweetener that won't spike your blood sugar levels. And to add a touch of vanilla flavor, we use sugar-free vanilla extract.
These ingredients work together to create a gluten free cake that's rich, moist, and packed with chocolatey goodness. This keto chocolate lava cake is a delicious sugar free treat that you can enjoy without any guilt!
1 tbsp Almond flour
2 tbsp Salted Butter Melted
2 Large Eggs at room temperature
¼ cup Unsweetened cocoa powder
3 tbsp Swerve
½ tsp Baking Powder
½ tsp Sugar-Free Vanilla Extract
To ensure that you get the best possible results and the healthiest version of this delicious keto chocolate lava cake, I recommend using high-quality, organic ingredients whenever possible.
By choosing organic ingredients, you can avoid exposure to harmful pesticides, herbicides, and genetically modified organisms (GMOs) that may be present in conventionally grown produce. Plus, organic ingredients are often richer in nutrients, flavors, and natural goodness, making your dessert taste even better!
So, next time you make this recipe, don't forget to opt for organic almond flour, cocoa powder, and eggs, as well as grass-fed butter, if you can. Your body and taste buds will thank you!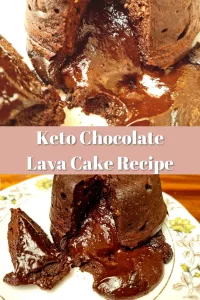 Instructions How To Make Keto Chocolate Lava Cake
Are you ready to indulge in a rich and decadent dessert that won't derail your low-carb or keto diet? Follow these simple instructions to make your own delicious keto chocolate lava cake!
To start, preheat your oven to 440°F (220°C).
In a medium-sized mixing bowl or blender, combine the almond flour, cocoa powder, baking powder, and your preferred sweetener. I recommend using a natural, zero-calorie sweetener like Swerve, which is perfect for low-carb and keto diets.
Next, add in the melted butter and eggs, and mix everything together until well combined. The mixture should be smooth and slightly thick.
Add in the sugar-free vanilla extract to give your cake an extra boost of flavor, and mix once again.
Now, pour the batter into a greased ramekin, making sure to leave some room for the cake to rise. Bake it for 7 minutes.
Once your cake is done, remove it from the oven or microwave and let it cool for a few minutes before serving. The center of the cake should be warm and gooey, while the outside should be moist and fluffy.
Now it's time to dig in and enjoy your delicious, guilt-free keto chocolate lava cake! Serve with a dollop of whipped cream or a sprinkle of powdered Swerve, and savor every bite.
While it's important to make sure your keto chocolate lava cake is fully cooked, be careful not to overdo it, or else the middle won't be gooey and decadent like it should be. In the oven, 7 minutes should be plenty of time to bake the cake to perfection.
However, depending on the heat of your oven, you may need to adjust the cooking time slightly. Keep a close eye on your cake as it bakes, and check it frequently to ensure it's not overcooking. 
Remember, the center of the cake should be warm and oozing with chocolate, while the outer edges should be moist and fluffy. This is what gives the cake its signature lava-like texture, and it's what makes it so irresistible.
The ideal time to take your keto chocolate lava cake out of the oven or microwave is when the middle is slightly jiggly, but the edges remain firm. You'll notice that about half of the cake will jiggle when you gently shake it. This is a good indicator that the cake is cooked to perfection and that the center is gooey and delicious.
By being mindful of the cooking time and checking your cake frequently, you'll be able to achieve the perfect texture and taste that will make your keto chocolate lava cake recipe a hit with everyone who tries it. And, you will know how long it takes to cook for the next time.
Serving Suggestions For Keto Chocolate Lava Cake
Top with whipped cream: A dollop of whipped cream is the perfect complement to this rich and decadent dessert. You can make your whipped cream at home or use a sugar-free store-bought version to keep it keto-friendly.
Add fresh berries: The tartness of fresh berries such as raspberries, strawberries, or blueberries pairs well with the sweetness of the cake. You can serve the berries on the side or top the cake with them.
Drizzle with keto friendly chocolate sauce: If you're a chocoholic, why not take things to the next level and drizzle your keto chocolate lava cake with some extra chocolate sauce? You can make a keto-friendly version using cocoa powder, sweetener, and cream.
Sprinkle with nuts: For a bit of texture and crunch, you can sprinkle some chopped nuts on top of the cake. Almonds, hazelnuts, or pecans work well with the chocolatey flavors of the cake.
Serve with ice cream: If you're feeling indulgent, serve your keto chocolate lava cake with a scoop of your favorite sugar-free ice cream. Vanilla or chocolate are classic choices that pair well with the cake's flavors.
Overall, this keto chocolate lava cake is a delicious and satisfying dessert that you can enjoy without the guilt. With just a handful of low-carb ingredients and a few minutes of your time, you can indulge in a rich and chocolatey treat that's perfect for any occasion. So what are you waiting for? Give this recipe a try and let me know how you like it! I can't wait to hear from you.
Are you in search of further inspiration for keto-friendly desserts? How about trying out some of these recipes?