Quick and Simple Keto Toad in the Hole is a classic British dish with a Low Carb make-over. Ketogenic, LCHF, Flourless, Grain Free, Nut Free and Gluten Free.
But... What is Toad In The Hole?
Toad In The Hole is a traditional British dish consisting of Yorkshire pudding batter and sausages. Sometimes, the same name in the US is used for a dish that consists of toast with a fried egg in the middle. 
The popover is an American version of Yorkshire pudding and similar batter puddings made in England since the 17th century, The oldest known reference to popovers dates to 1850. The first cookbook to print a recipe for popovers was in 1876.
Back To Our Gluten Free Toad In The Hole
The Toad In The Hole original recipe is fairly simple and only contains a few ingredients. Instead of regular flour, I used arrowroot to make up for the missing gluten. 
Arrowroot (Maranta arundinacea) is a tuber vegetable that originates from the rainforests of Indonesia. It's related to other root vegetables, including yams, cassava, and jicama.
It is a white, flavourless powder most often used to thicken sauces, soups, and other foods like fruit pie fillings.
Ingredients List For Gluten Free Toad In The Hole
Arrowroot – 1 Tablespoon (0.3oz, 8g)
Fresh Double Cream/Heavy Cream – 1⁄4 Cup (2oz, 60ml)
1 Medium Egg (2.5oz, 70g)
Beef Dripping – 1 Tablespoon (0.07oz, 8g)
Himalayan Salt – 1⁄4 Teaspoon (0.05oz, 1.5g)
Sausages of choice (I'm using 10 Heck chicken sausages) – 340g
Quick and Simple Keto Toad in the Hole Recipe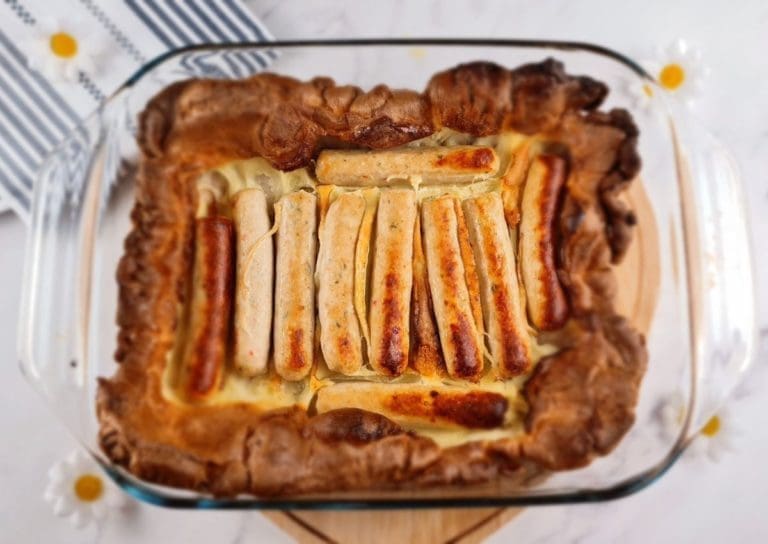 It is a very simple dish to create. However, there are a couple of points that you might want to pay attention to so you create the perfect flourless toad in the hole.
The first is to make the Yorkshire pudding batter EXACTLY as detailed in the recipe. Please follow the steps and do not try to use any (not mentioned) substitutes or change the amount of each ingredient.
I am aware that some of the ingredients for the batter are more carby than one would like. But I assure you that, having experimented A LOT, nothing else will deliver the delicate, crispy, puffy Yorkshire pastry that makes every British Sunday roast special.
The second is to ensure the beef dripping is VERY hot. You need to be generous with the amount, and when you pour the batter over it, it must sizzle. If it doesn't, but you add the batter anyway, you'll end up with a wet + eggy base. 
To conclude, Quick and Simple Keto Toad in the Hole is simplicity epitomized. And no one will be able to tell that it's low carb!
How To Cook Gluten Free Toad In The Hole
Pre-heat your oven to 200C/400F.
Let's start with combining in a bowl:
2 tablespoons of Arrowroot
2 teaspoons of Himalayan Salt
1/2 cup of double cream or heavy cream
Mix everything well. You can use a handheld mixer, egg whisker or just a fork.
And the last ingredient to add to our batter is two large eggs.
Mix very well.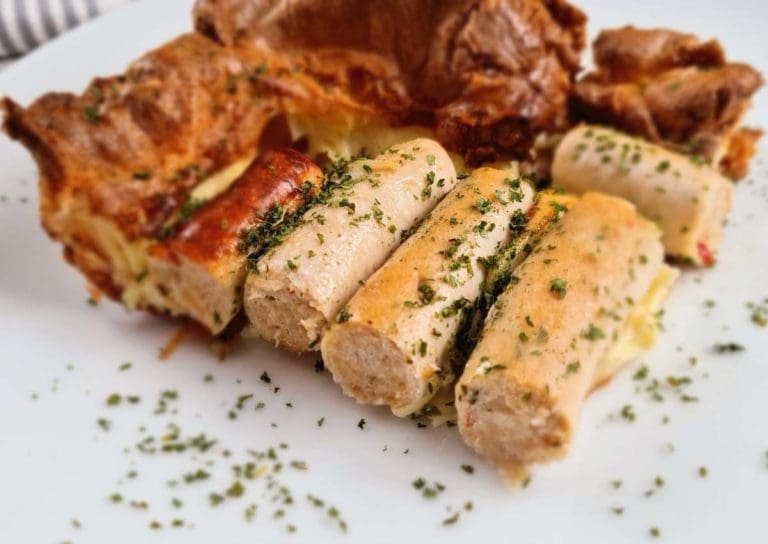 This step is very important...
 Wrap it with cling film and leave it on the site for about 30 minutes. The arrowroot will thicken our batter. It will expand a little bit as well. If you skip this step, you may not get the desired rise, crispiness and fluffiness.
While waiting for the Yorkshire pudding batter to proof, place 2 tablespoons of beef dripping, lard, coconut oil or butter in an ovenproof dish. Place the dish in the oven about ten minutes before the batter is ready.
This is very important! Make sure the beef dripping is piping hot or the Yorkshire pudding might be very soggy, might not rise, and will stick to the bottom of your dish.
When the proofing time is up, pour the mixture into our hot ovenproof dish. When you pour over the batter, it should start to cook straight away.
I'm using "Heck Chicken Sausages" but you can use any brand you want. This brand is one of the lowest-carb sausages in any of the shops in the UK. Place the sausages evenly on top of the batter not letting it cool down while doing that.
How Long to Cook The Gluten Free Toad In The Hole
It takes about thirty to thirty-five minutes in preheated oven to cook fully.
It's ready when is medium brown colour. I would recommend you check about 25 minutes after you place the dish in the oven if it's ready. Some people make the mistake to take it out too early and it's not as crispy. It's better if you wait until it's medium brown and crispy to the touch.
Please check, in advance, the recommended cooking time for the sausages you are using. If it is longer than 25-30 minutes, please cook them first for the difference in cooking time.