So, you've decided to start a ketogenic diet because you want to lose some weight and improve your overall health. You've seen countless before and after transformations from other people on keto. heard anecdotes about having more energy, decreased inflammation. and even the reversal of some chronic health conditions. You decide to give keto a shot, and after some initial success. you've hit a plateau. Or maybe you're not feeling all the benefits others seem to claim. and You start to question if you're doing it right. Is there something you're missing? Here you will find THE MOST COMMON MISTAKES ON KETO DIET AND HOW TO AVOID THEM.
Related Posts:
ALL YOU NEED TO KNOW: HOW TO START KETO DIET – KETO DIET GUIDE FOR BEGINNERS
I've put together A FREE THE ULTIMATE GUIDE FOR BEGINNERS as a thank you to all my subscribers – it includes all you need to know to start your weight loss journey with Keto Diet. You can download it for free from HERE!
Don't worry, you are not alone! Changing your eating habits takes time, and there's a ton of conflicting information out there about keto. It doesn't mean you're doing anything intentionally wrong or that keto isn't for you! Let's go over some of the most common keto mistakes on keto diet, how to avoid them, and possible solutions that will help keep you moving towards your goals.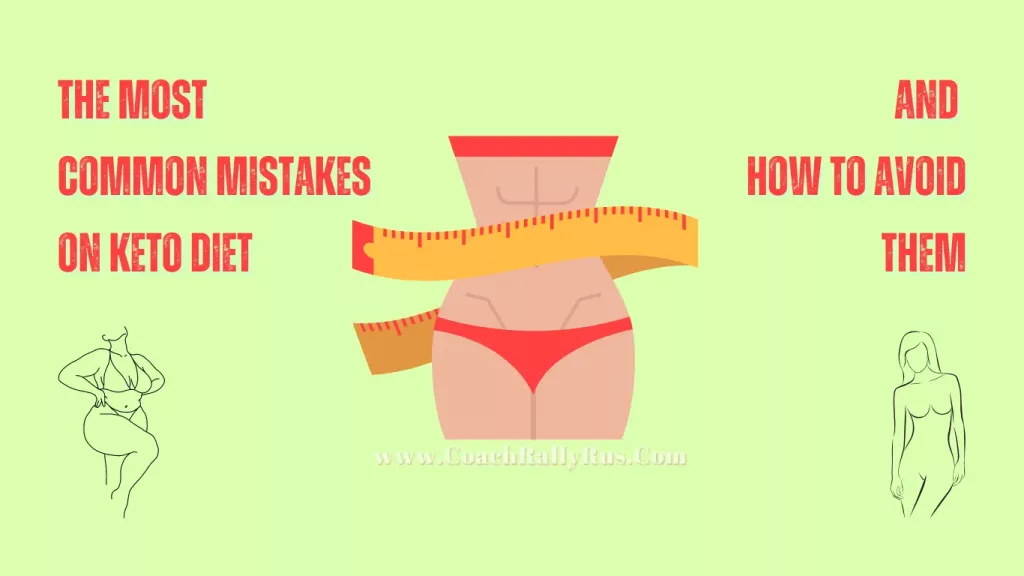 Not Tracking Macros or Calculating Macros Correctly
Many people find that tracking macros is a tedious task and would rather avoid it all together on their keto journey. However, if you're just starting a keto diet, tracking is an essential tool to learn the exact amount of carbs, protein, fats, and calories in the common foods you eat. You don't have to track forever. But it teaches you which foods work best in a keto lifestyle. It gives structure by helping you plan your meals ahead of time. It is a great tool to use if you hit a weight-loss stall during your journey.
How To Fix It:
Do an initial weigh-in on the scale, then use an online macro calculator to determine the exact macronutrient breakdown to fuel your body. Using a food tracking app such as CarbManager or MyFitnessPal, input your macros and set the calorie deficit to 0%, YES 0% at the beginning until you are fully fat-adapted and then, you can increase it to no more than 33%. Be sure to re-adjust your macros with every 10lbs (5kg) lost!
Not Planning Ahead
In a world full of processed carbs and sugar, it can feel like we're constantly surrounded by temptation and triggers. To be successful on keto requires you to make conscious choices. Thoughtful planning can be an effective way to help you stay on track. When you make a plan, in advance, it takes out all of the guesswork and makes the decision process easier.
How To Fix It:
Meal planning, preparing protein or foods, and having a solid shopping list when you get groceries can be extremely helpful. You can also track your macros the day before, so you just need to show up and stick to your plan.
Other instances include researching restaurant menus in advance before going out. Or having a plan for social settings that will allow you to make good keto food choices.
More about Mistakes on Keto Diet below but first…
Connect with me. Click HERE to find me on social media!
Not Staying Hydrated
Dehydration is the number one side effect of a ketogenic diet. When you restrict carbs, you are also shifting the balance of hydration and electrolytes in the body. Carbs are stored with water in the body, so when you decrease carbs, you are also losing water along with them. Water is also essential to flush out any excess ketones which are highly acidic to help support kidney health. It can also help to curb appetite and reduce cravings.
How To Fix It:
Be sure to stay hydrated by drinking 3-4L or 0.8-1 gallon of water daily. Remember that electrolytes, green tea and herbal tea, all count towards your water goal!
Not Supplementing Electrolytes Properly
The "keto flu" is real. This occurs due to an electrolyte imbalance caused by restricting carbs and losing essential nutrients such as sodium, potassium and magnesium. You may experience flu-like symptoms such as headache, dizziness, body aches, or fatigue. It can happen any time during your keto journey, but especially at the beginning as you transition into ketosis.
How To Fix It:
Adding more salt to your foods is an easy way to help balance your electrolytes and combat keto flu. You can also eat foods high in these nutrients such as avocados, salmon, dark leafy vegetables or even sip pickle juice. There are also pre-made electrolyte powders to keep you feeling your best.
Not Eating Enough Protein
There's a common misconception that eating too much protein can spike your blood sugar and kick you out of ketosis through a process called gluconeogenesis. Gluconeogenesis always occurs while in ketosis because the body still needs a trace amount of glucose to function. It only happens in a small amount even while eating a high protein diet. It prevents hypoglycaemia while fuelling parts of the body that actually can't metabolize ketones.
There's a good chance that with all the main focus going towards "high-fat, low-carb" you may not be eating enough protein. Protein is filled with amino acids that are the building blocks for muscle and tissue repair. It is essential to prevent muscle wasting and hair loss. And it can help you feel fuller and more satisfied which can aid with weight loss.
How To Fix It:
Ensure you're eating 0.8-1g of protein per kilogram of body weight, or even up to 1.6g if you're an athlete. Macro calculators can help you determine the best protein ratio for you. Or, just simply focus on including a healthy source of protein at every meal.
More about Mistakes on Keto Diet below but first…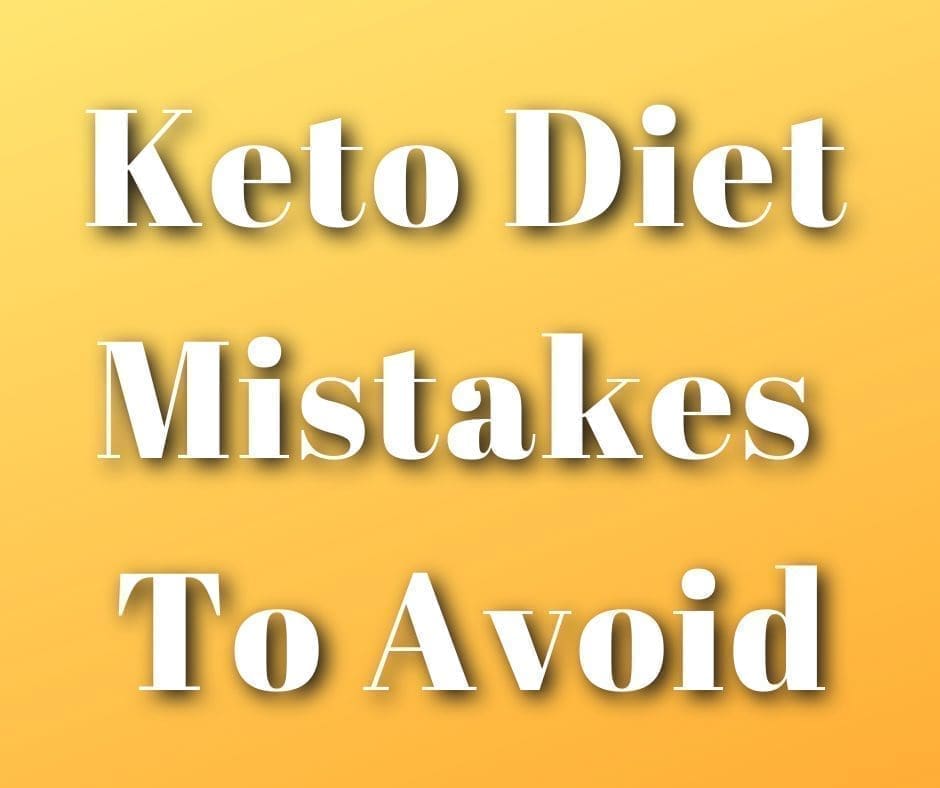 Focusing Too Much On The Scale
This is one of the biggest mistakes on Keto diet! This is one of the major contributing factors to how you will feel mentally and emotionally throughout your keto weight loss journey. A scale is simply a tool that gives us data on the direction of our weight loss, and yet we give it so much emotional power that it can impact our mood, confidence, determination and wellbeing. We can allow it to take over our mindset and influence our diet choices.
When you start your keto journey you may lose a fair amount of weight right away. This is super exciting and highly motivating at the beginning! It's important to know that this loss is mainly from water weight, and the rate at which you lose weight will slow down. This is no reason to get discouraged, it is completely normal and a part of the process.
Your weight will fluctuate daily for a variety of reasons such as that time of the month, water retention after a higher sodium meal, an increase in muscle, not having regular bowel movements, and so much more. We are not designed to lose weight every single day, even when we're doing everything "right".
How To Fix It:
If the scale generates an emotional reaction, it may be time to limit the amount you use it or take a break from weighing yourself altogether. Try only weighing yourself once or twice a month at the same time of day as a guide. Then put the scale away out of sight the rest of the time. If you're making good choices and creating new healthy keto habits that can be enough without worrying about the number. Focus on how you're feeling and how your clothes fit instead!
Lack of Vitamins and Minerals
When we pay closer attention to the carb counts in certain foods, it's easy to get carried away in thinking that the absolute lowest amount of carbs possible is best. This can be at the cost of including nutrient-dense fruits and vegetables since they do contain more carbs. Insufficient vitamins and minerals can lead to a wide variety of issues such as skin problems, digestive issues, fatigue, depression and weight gain.
Remember that not all foods are created equal in terms of nutrient value. So while adding some fat to your coffee may help you get into ketosis because it's lower carb, doesn't mean that your body is getting the micronutrients it needs to thrive.
How To Fix It:
Be sure to include a wide variety of low carb vegetables in your keto diet. This provides fibre to ensure your digestive system and gut flora are healthy. Eat with the seasons to get the most nutrients from your vegetables when they're at their peak. Consider including a greens powder drink in your daily routine or supplement with a high-quality multi-vitamin/mineral supplement.
Not Getting Enough Sleep
This is another very important mistake to be added to the list of mistakes on Keto diet!
No matter what diet or lifestyle you choose, getting quality sleep plays a major role in weight loss success. A lack of sleep causes our stress hormones to go completely out of whack. This can result in stalling our weight loss, weight gain, and an increase in cravings.
How To Fix It:
Create a relaxing night-time routine that can help you achieve 7-9 hours of quality sleep each night. Stay away from electronic screens at least one hour before bed. Supplement magnesium at night, create a cool dark environment and consider earplugs to eliminate distracting noises.
More about Mistakes on Keto Diet below but first…
Drinking Too Much Alcohol
You can certainly enjoy some alcoholic beverages here and there on your keto journey, if you're overdoing it by drinking regularly you are likely stalling your weight loss progress. Our bodies view alcohol as a toxin and will put all of their efforts into eliminating it from the body first, before focusing back on weight loss. While there are many different things you can drink on keto, they should still be consumed in moderation if you want to reach your goals.
When we drink alcohol our inhibitions decrease, which can increase the likelihood of eating off-plan foods and kick us out of ketosis.
How To Fix It:
Drink alcohol when there's a reason to celebrate or a special occasion, and make a solid plan for what you will drink, what you will eat while drinking, and what you will eat the next day if you're hungover. Try to avoid using alcohol as a way to cope with stress, and find alternative activities such as reading, exercise, getting out in nature, or journaling instead.
Not Being Aware of Hidden Carbs
While it is completely obvious that some foods are high in carbs, others may not be as clear. Certain foods such as condiments, sauces, and even products that are labelled as being "keto" may contain more carbs than you know! These carbs add up and can knock you out of ketosis, or stall your progress. This one should probably be at the beginning of the list of mistakes on Keto diet.
How To Fix It:
Always read labels carefully, and be on the lookout for hidden carbs. Stock your kitchen and pantry with keto-friendly foods, and don't assume something labelled "keto" has macros that will fit your lifestyle.
Feelings of Overwhelm & Perfectionism
It can be extremely exciting to start a keto journey and change up our habits to create new, healthier ones. We can get hyper focused on wanting to "do keto perfectly" right from the start that we end up feeling so overwhelmed and with a serious case of analysis paralysis. With so much information out there, it can actually cause us to feel stuck before we even begin. It's important to do your own research and understand the keto basics, but sometimes we feel like if we can't do it perfectly then we shouldn't do it at all. It's so easy to fall into this trap and the enthusiasm fades when we focus too much on doing it perfectly rather than making progress.
How To Fix It:
Start off super simple. Try eliminating foods gradually, for instance start with sugar for a few weeks, then move to obvious carbs like bread or pasta. Or transition into keto by trying a low carb diet first. Another option is to just simply eat keto foods for the first few weeks without worrying about tracking or calories.
Remember that this is a process that takes practice. You are learning new habits, and unlearning old behaviours. It won't be perfect, you will make mistakes, and those obstacles will allow you to learn and grow as you create a true keto lifestyle.
More about Mistakes on Keto Diet below but first…
Connect with me. Click HERE to find me on social media!
Forgetting That Food Quality Matters
It's so easy to get caught up in counting carbs, that we forget the quality of the foods we eat matters. Sure, you can eat processed meats, packaged keto foods, and vegetable oils because they easily fit into your macros. But those foods are also highly inflammatory, and often void of any nutrients. The quality of the food you eat shouldn't be an afterthought just because it's low carb.
How To Fix It:
Focus on whole foods as much as possible. Meats, fish, seafood, poultry, eggs, nuts, seeds, and low carb vegetables are all highly nutrient-dense keto-friendly foods that will not only help you lose weight on keto but nourish your body with the nutrients it needs. Pay attention to high-quality fats from sources such as coconut oil, avocados, olive oil and fatty meats and fish.
Too Many Keto Products & Treats
There is a keto-friendly version for just about anything these days. This is really great so you don't have to feel super restricted or like you're missing out by simply selecting a lower carb alternative. That being said, it is easy to become reliant on these products instead of focusing more on whole foods. While fine in moderation, these products are still highly processed and easy to overeat. This is especially true for sweet keto products that contain sugar alcohols may cause a stall in weight loss progress.
How To Fix It:
Be honest with yourself and mindful of how often you're using keto products. Just because you can fit "fun foods" into your macros for the day, doesn't mean they should be your main focus. If you find yourself relying a little too much on keto products, give them a break for a week or two and focus on whole foods. For example: instead of using a low carb wrap, swap it for a lettuce wrap. Instead of a packaged keto treat, swap it for a homemade fat bomb or a tablespoon of natural peanut butter.
Quitting Too Soon
It takes time for your body to get into ketosis. If you keep going back and forth between keto and carbs, your body will always choose to burn glucose first so you'll never fully get into ketosis. Your body needs to burn through its glycogen stores, convert to burning fat and ketones, and then become fat-adapted where your body gets accustomed to using this type of fuel.
It's also important to note that weight loss stalls are normal on any keto journey. This is no time to get discouraged and give up completely. Quitting or self-sabotaging your efforts won't get you there any faster!
How To Fix It:
Be prepared with electrolytes to supplement your first week of keto so you aren't deterred by symptoms of the keto flu. Write out your WHY – why do you want to lose weight in the first place? Lean into it during times you're struggling or want to quit.
If you're frustrated by a weight loss stall, adjust your macros if needed, stay at 20g net carbs, increase your water intake, be patient and trust the process. Sometimes our body just needs a chance to heal and adjust to all the changes we've made. Remember that slow and steady weight loss is sustainable weight loss, and if you're in it for the long haul you will achieve your goals as long as you don't give up!
It's crucial to remember that we will all make mistakes along the way on our keto journey. What you do after those setbacks is more important than the setback itself. Use the information you learned to make different choices in the future, and just keep going!
Join my FREE private Facebook Group!
Do you want to know more? See the newest here:
I've put together A FREE THE ULTIMATE GUIDE FOR BEGINNERS as a thank you to all my subscribers – it includes all you need to know to start your weight loss journey with Keto Diet. You can download it for free from HERE!
Connect with me. Click HERE to find me on social media!