Embarking on a ketogenic diet doesn't mean that you have to give up on delicious treats like cheese crackers. An understanding of keto-friendly ingredients and mastery of some cooking skills can make this possible. Ingredients like almond flour, eggs, Parmesan cheese and garlic powder are not only keto-friendly but also loaded with health benefits. The process of making Keto Cheese Crackers is quite straightforward if you understand the nuances of blending, shaping, and baking the crackers. Unraveling the roles of these ingredients on a keto diet and delving into the exciting journey of cooking keto cheese crackers would make it not just a diet routine but also an enjoyable cooking experience.
Preparing and Understanding Keto-friendly Ingredients
Understanding Keto-friendly Ingredients
Before we dive into the recipe, let's take a moment to understand why these ingredients are suitable for those following a Keto diet.
Almond flour is a low-carb alternative to regular wheat flour and it is high in healthy fats, protein, and fiber. It's a must-have ingredient for anybody following a ketogenic diet.
Eggs, on the other hand, are not just an excellent binder for our cheese crackers, but they are also high in protein and healthy fats. They keep you feeling full longer, which can aid in weight loss.
Parmesan cheese not only gives our crackers a delicious flavor, but it also delivers a healthy amount of fats and protein, with minimal carbs. Dairy products like cheese are high in healthy fats, making them a staple in the ketogenic diet.
Garlic powder, apart from adding a lovely flavor, has been found to have several health benefits, like reducing cholesterol and blood pressure. Although it is high in carbs in relation to its size, the small amount we'll be using won't cause a significant carb increase.
Adding a delightful twist, cayenne pepper joins the lineup, imparting a spicy kick and potential health benefits, like boosting metabolism and reducing inflammation.
If you don't have or cannot consume any of these ingredients, don't worry! Almond flour can be replaced with coconut flour or any other low-carb, high-fiber flour. The eggs can be replaced with flax seed eggs or chia seed eggs, and any hard, aged cheese can replace parmesan cheese. Garlic powder can be substituted with fresh garlic or any other flavors you fancy!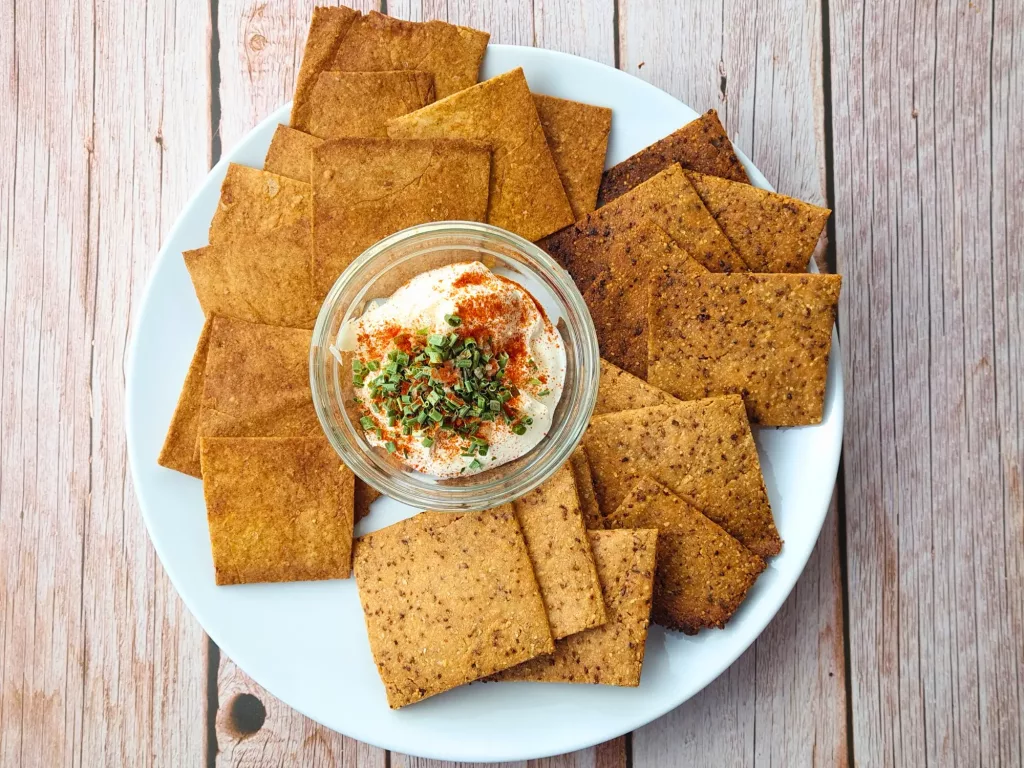 Ingredients For Keto Crackers Recipe
Basic Keto Crackers Recipe
Flavors Option 1:
1⁄2 cup Parmesan Cheese
1 tbsp Garlic Powder
Flavors Option 2:
Mastering the Keto Cheese Cracker Cooking Process
Keto Cheese Crackers
Welcome to your new favorite Keto snack recipe stack – tasty, crunchy, and super Keto-friendly Keto Cheese Crackers! These are grain free, gluten free, low carb, and they pack a punch of cheesy flavor that will have you coming back for more. They're so appetizing that even people not following the Keto diet love them. These are a wonderfully healthy option if you crave something savory but don't want the extra carbs! They're easy and quick to prepare and bake, and their fabulous taste will definitely win you over!
This recipe makes about 24 Keto Cheese Crackers, depending on the size you make them. We're keeping it simple by using ingredients you likely already have in your pantry for a snack you can whip up in no time.
The Recipe
This straightforward process takes approximately 5 minutes of preparation and 12 minutes of baking, totaling up to roughly 17 minutes from start to finish. You'll need a mixing bowl and baking paper for an easier and less messy process.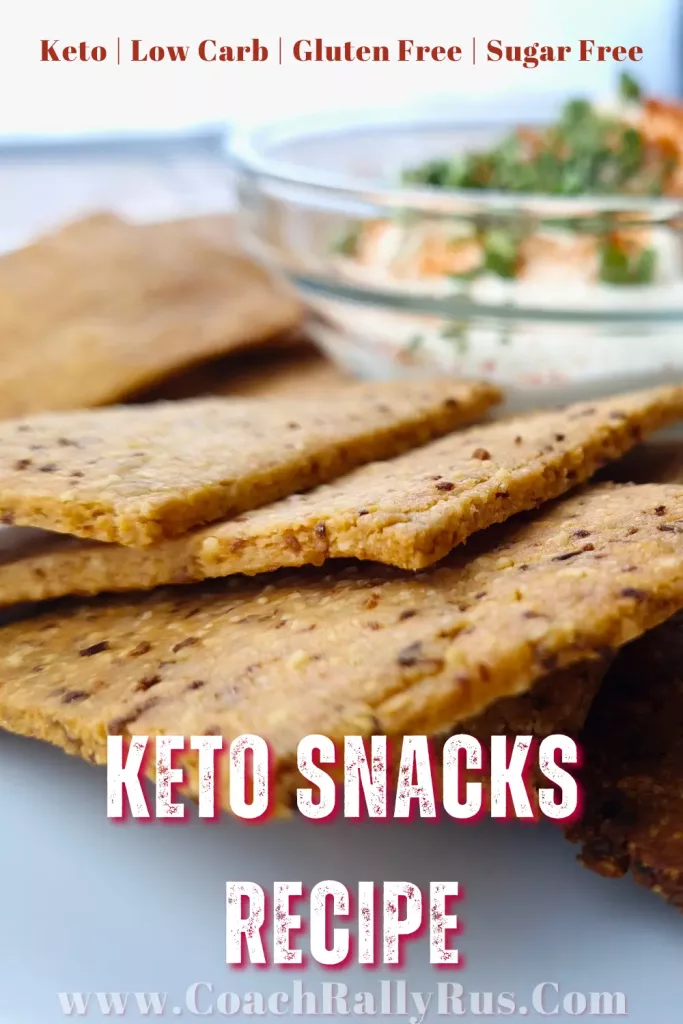 Preparing the Mixture
First, start by preheating your oven to 350 degrees F (175 degrees C) to ensure it's hot enough by the time you're done with your dough. Then, in a mixing bowl, combine your 1 cup almond flour and 1 large egg. Mix these ingredients together until a soft dough forms. The dough should be able to hold its shape, and it should not stick to your hands. This is your cracker dough and it should have the consistency of conventional cookie dough.
Separate the dough into 2 equal parts for the 2 different flavors. Add 1/2 cup parmesan cheese and 1 tablespoon garlic powder to the first dough and 1 teaspoon cayenne pepper and Himalayan salt to the second dough. Mix well until well combined.
Crafting Your Low Carb Crackers
Once your dough is ready, place it between two sheets of baking paper and roll it out until it's approximately 1/8 inch thick. The thinner you roll your dough, the crisper your crackers will be. Once rolled, remove the top piece of paper and cut the dough into your desired cracker shapes and sizes. A pizza cutter or a knife works nicely for this.
Repeat the same process for the second dough.
Baking Your Gluten Free Crackers
Place your dough, still on the baking paper, onto a baking sheet and slide it into your preheated oven. Bake your crackers for about 12 minutes, or until the edges start to turn golden brown. Make sure to monitor them closely in the last few minutes to prevent them from overbaking and becoming too hard.
Once they're done, let them cool completely. This will help them achieve their final crunchy consistency. After that, they're ready to serve!
Storage For Gluten-Free Low Carb Keto Crackers
Once you've relished these delightful gluten-free low carb keto crackers, ensure their lasting freshness by following these storage tips:
Airtight Container: Transfer the cooled crackers to an airtight container, preserving their crispness and preventing moisture absorption.
Room Temperature: Store the container in a cool, dry place at room temperature. Avoid direct sunlight or excessive heat, which may cause the crackers to lose their texture.
Refrigeration: For extended shelf life, especially in warmer climates, refrigeration is recommended. Ensure the container is still airtight to avoid condensation.
Freezing Option: These crackers freeze well! To store them for longer periods, place them in a freezer-safe container or resealable bag. Thaw at room temperature before serving.
Crispy Restoration Tip: If, over time, your crackers do become slightly soft or lose their crispness, don't worry! Revive them by placing them in the oven or under the grill for a couple of minutes until they turn wonderfully crispy again.
By adhering to these storage guidelines and utilizing the crispy restoration tip when needed, your gluten-free low carb keto crackers will remain delectably satisfying, ready to be enjoyed at any time!
Tips For The Best Keto Crackers
The perfectly cooked Keto Cheese Crackers should be golden, crispy, and full of flavor, leaving you wanting more. You can also experiment by adding herbs and seasonings of your choice to the mix to give them your unique twist!
By following these steps, you'll have delicious, homemade Keto Cheese Crackers that surely won't last long in your pantry. Enjoy this simple keto snack recipe and happy baking!
Through an informed understanding of each ingredient and pro tips on cooking, you've gained the confidence and knowledge necessary to enjoy an all-time favorite snack in a way that suits your keto lifestyle. Now, no longer a novice to making Keto Cheese Crackers, you can enjoy a treat that is delicious, healthy, and in line with your dietary needs. Moreover, you have also learned potential ingredient substitutes, ensuring the recipe remains flexible for you. Remember, the crux of a good diet is not elimination, but substitution and moderation. So, dig in and enjoy your homemade Keto Cheese Crackers, as you continue your keto living journey with a greater sense of empowerment and enjoyment.