Satisfy your seafood cravings with this easy Keto Garlic Shrimps recipe! Delicious & creamy, this quick Keto seafood dish will have you tasting the flavor of the ocean in no time. Try it now!
A super quick, and simple recipe for Creamy Keto Garlic Shrimps! It takes only 10 minutes to cook and it is so good that you will want to eat it daily!

This is a quick and simple garlic prawns/shrimps recipe idea for you with a little twist. This recipe is perfect for a keto/low carb diet as well as for healthy living recipe ideas.
This Keto recipe is for 3 portions – dinner for you and your other half as well as for lunch the next day or simply indulge yourself for just dinner!
Keto Garlic Shrimps Ingredients:
30g Salted Butter – you can reduce the amount if you are not following the Keto diet
20g Chopped Garlic – you can use garlic powder if you want to reduce the carbs
10g Spring Onions/Scallions
1 x Red Bell Pepper – green bell pepper is better for low carbs if you prefer it
100g x King Prawns/Shrimps (or baby prawns/shrimps)
2 tbsp Parsley – fresh is tastier if you have
8 x Seafood Sticks/Crab Sticks – you can replace them with canned crab meat or any other seafood you like
125ml Double Cream (heavy cream)
Salt and Pepper to taste
Dill to garnish
Keto Garlic Shrimps Recipe Nutritional Values:
Per Serving Total:
Net Carbs – 11g
Protein – 5.3g
Fat – 25.4g
Cals – 315
Recipe Total:
Net Carbs – 33.1g
Protein – 15.9g
Fat – 76.2g
Cals – 946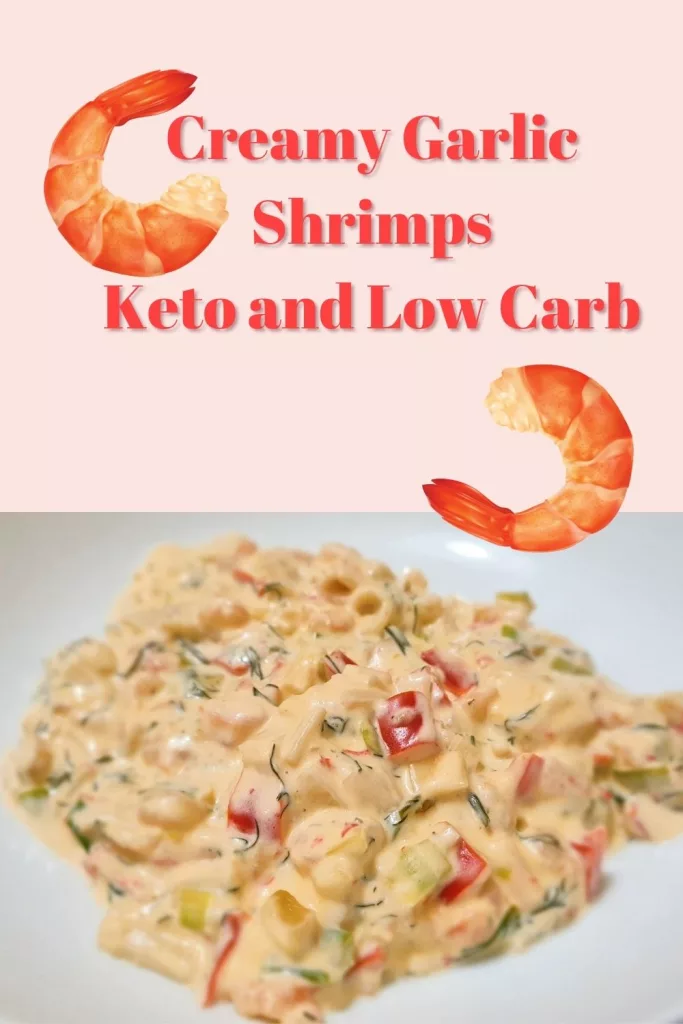 Directions on how to make Keto Garlic Shrimps
Melt the butter in a frying pan.
Add the chopped garlic, spring onions and bell pepper. Fry the vegetables for 2-3 minutes until they are softened.
Add the shrimps (prawns). You can use fresh or frozen shrimps.
Continue frying for 1-2 minutes. If you are using frozen shrimps, add about 4-5 minutes so they can defrost first.
Add the parsley and the seafood sticks. The seafood sticks are optional as they are for dirty keto. You can use any other seafood you like instead. The seafood sticks are a cheap option here.
Continue frying for 1-2 minutes.
Add the double/heavy cream and season with salt and pepper.
Let it simmer for 5-6 minutes or until cooked.
Serve and garnish with fresh dill.
Enjoy!
My Facebook Group if you want to say hello and get to know me better!
Rally's Healthy Lifestyle – Group
Nutrition Facts
3 servings per container
---
Amount Per ServingCalories946
% Daily Value *
Total Fat 76g

117

%
Cholesterol mg

0

%
Total Carbohydrate 8.8g

3

%

Dietary Fiber 0.2g

0

%
Sugars 2.7g

Protein 4.4g

8

%
---
* The % Daily Value tells you how much a nutrient in a serving of food contributes to a daily diet. 2,000 calories a day is used for general nutrition advice.
Maybe you will like to try next
Connect with me. Click HERE to find me on social media!
I've put together A FREE THE ULTIMATE GUIDE FOR BEGINNERS as a thank you to all my subscribers – it includes all you need to know to start your weight loss journey with Keto Diet. You can download it for free from HERE!