This keto Raffaello fat bombs recipe is incredibly simple and fast to make. However, be warned, these Raffaello balls are so delicious, you might find yourself eating them all in one sitting!
These little treats are a healthier version of the classic Raffaello chocolates that we all know and love. They're perfect for anyone following a low carb, gluten-free, or sugar-free diet. Not only are they delicious, but they're also packed with healthy fats and can even help accelerate fat loss! So, whether you're looking for a sweet snack, a guilt-free dessert, or something to pack in your lunch box, these Raffaello Keto Fat Bombs are the perfect choice. So, let's get started and learn how to make them!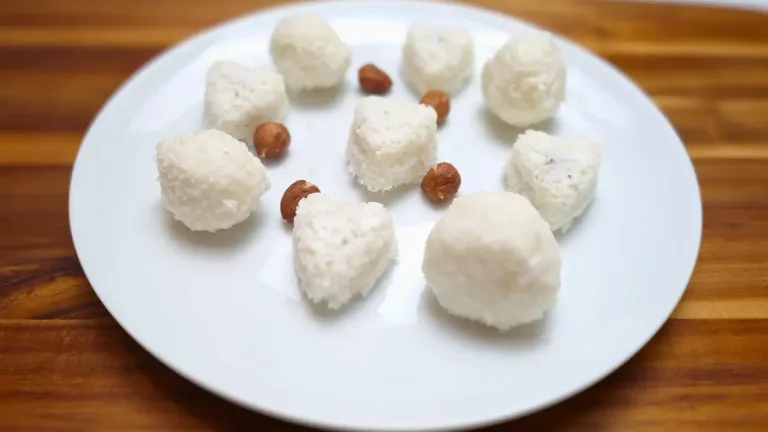 An Interesting Fact About The Recipe Origins
Before discovering the keto lifestyle, I had a love affair with Raffaello Rocher chocolates that was simply irresistible. I even contemplated swapping out my main course for a handful of these creamy delights!
So, when I switched to the keto diet, giving up my favorite Raffaello Rocher chocolates was not an option. It became a challenge to find or adapt a recipe that would allow me to indulge in the heavenly taste while staying true to my keto lifestyle. And thus, my quest for the perfect Raffaello keto fat bomb recipe began.
Raffaello Rocher Chocolates History
Raffaello Rocher chocolates were created by the Italian confectionery company Ferrero SpA. The company is famous for producing several beloved chocolate brands including Nutella, Ferrero Rocher, and Kinder Chocolate.
The Raffaello chocolates were first introduced in 1990 and have been a popular choice ever since. They are made with a creamy white almond center surrounded by a crispy wafer shell and coated with coconut flakes.
The name "Raffaello" was inspired by the Italian Renaissance painter Raphael, who was known for his serene and delicate artwork. This name was chosen to reflect the elegant and sophisticated nature of the chocolates.
Today, Raffaello chocolates are enjoyed all over the world and are often given as gifts or used to add a touch of luxury to special occasions.
Ingredients For Raffaello Keto Fat Bombs
To create these mouth-watering Raffaello Keto Fat Bombs, you only need four simple ingredients that you probably already have in your pantry. This low-carb, gluten-free, sugar-free and diabetic-friendly recipe is easy to make and perfect for satisfying your sweet tooth without any guilt.
Desiccated Coconut: This ingredient is simply dried coconut meat that has been grated or shredded. It's a great source of fiber and healthy fats, and has been linked to several health benefits, including improved digestion and heart health.
Coconut Oil: This oil is extracted from the meat of mature coconuts and is a staple in many keto and low-carb recipes. It's rich in medium-chain triglycerides (MCTs), which are easily converted into ketones in the liver and used as a source of energy by the body. Coconut oil is also a great source of lauric acid, a fatty acid that has antimicrobial and anti-inflammatory properties.
Swerve is a zero-calorie, non-glycemic sweetener that is made from a blend of erythritol and oligosaccharides. Unlike some other sweeteners, Swerve does not have any bitter aftertaste and is a great substitute for sugar in baking and cooking. Swerve is also keto-friendly, gluten-free, and diabetic-friendly, making it a popular choice for those following a low-carb or sugar-free lifestyle. Additionally, Swerve measures like sugar, which means it can easily be substituted for sugar in recipes without affecting the texture or consistency.
Hazelnuts: These nuts are a great source of healthy fats, fiber, and several vitamins and minerals, including vitamin E, magnesium, and copper. They're also a good source of antioxidants, which have been linked to several health benefits, including reduced inflammation and improved heart health. Hazelnuts are a common ingredient in many desserts, including the popular chocolate-hazelnut spread Nutella.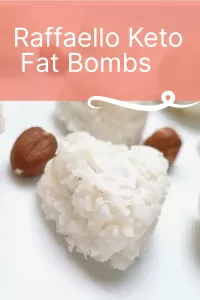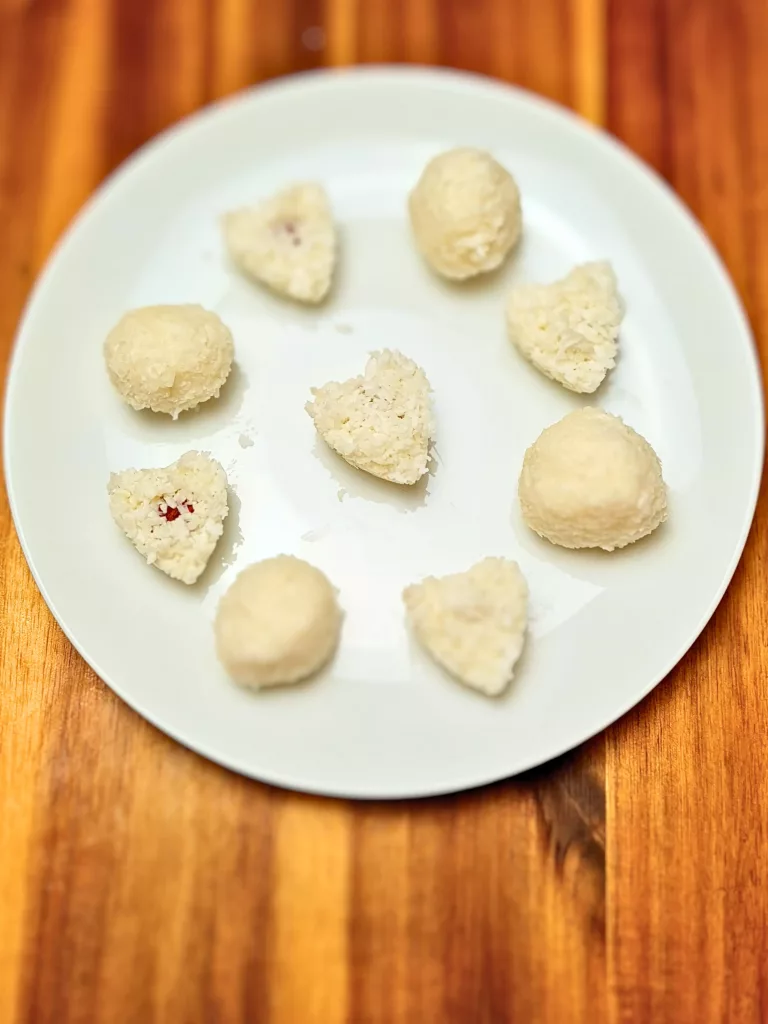 Instructions on How To Make Sugar Free Raffaello Rocher
Alrighty, now that we've got all our ingredients ready, it's time to make some magic happen! Don't worry, this recipe is super easy and will only take you a few minutes. So put on your favorite tunes and let's get started!
Mix all the ingredients well, making sure the sweetener is evenly distributed.
If you're making heart-shaped fat bombs, use ice cube forms and put about 1 teaspoon of the mixture, then add a hazelnut and another teaspoon of the mixture on top.
For round-shaped fat bombs, roll the mixture into small balls, flatten them slightly, add a hazelnut in the center, and then roll them into balls again. Press the mixture together well to prevent it from falling apart.
Once you've formed the Raffaello Rocher balls, refrigerate them for about 20 to 30 minutes, or until they're firm.
Take the fat bombs out of the fridge and serve. You can store them in an airtight container in the fridge for up to a week.
These Raffaello fat bombs are delicate and can fall apart if not pressed well, so make sure to press them together firmly.
The heat from your hands will help the mixture to warm up slightly, which makes it easier to form the balls, but be careful not to make it too warm, otherwise, the balls won't hold their shape.
If you prefer a sweeter taste, adjust the amount of sweetener accordingly.
Make sure to refrigerate the mixture for 20-30 minutes before forming the balls to make it easier to handle.
You can experiment with different types of nuts, such as almonds or macadamia nuts, for a different flavor and texture.
These Raffaello fat bombs can be stored in the fridge for up to a week, or in the freezer for up to 6 months, so feel free to make a big batch!
Serving Suggestions For Keto Fat Bombs
Enjoy them as a snack throughout the day when you need a quick energy boost.
Share them with friends and family at parties or gatherings, as they are sure to be a hit.
Package them in a cute box and gift them to someone special who follows a low-carb or keto diet.
Add them to your holiday treat basket or gift bag for a unique and delicious gift.
These homemade sugar-free Raffaello Rocher fat bombs are the perfect keto friendly treat for any occasion. They're easy to make, taste delicious, and are sure to satisfy your sweet cravings without compromising your health goals. With just a handful of wholesome ingredients and a few simple steps, you can whip up a batch of these delectable treats in no time. So go ahead and indulge guilt-free, and don't forget to share your creations with your keto family and friends.
Are you in search of further inspiration for keto-friendly desserts? How about trying out some of these recipes?